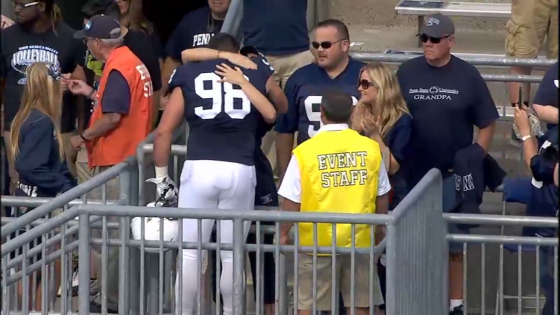 Carrie Zettel smiled when she remembered the text she got from her son Saturday morning.
"He asked if he could hug me before the game. He never asks that."
Anthony's father, Terry, died Friday afternoon after battling cancer for more than a year and a half. He was 46.
Zettel didn't have to play Saturday, but he believed his father would want him to. Anthony played for his dad. His family showed up for Anthony.
And … he got his wish for that hug, just moments before kick:
Anthony Zettel hugs family before San Diego State game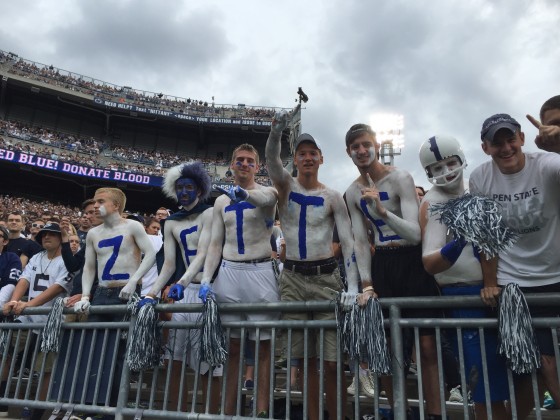 Zettel had all kinds of support on Saturday. His mother, his two brothers, sister, grandparents were all there in the stands. If he paid attention, there were actually thousands of blue and white Zettel fans at Beaver Stadium, too. Not to mention, the gathering back in his hometown of West Branch, Mich. Or the ones on the field.
"I gave him a hug. Told him I have a daughter, but now I also have a son," said Sean Spencer, Zettel's defensive line coach.
When Anthony talked to our crew Friday, he said his dad had been in hospice for 10 days and unresponsive for the last 12. Just the week prior, leading up to Rutgers, Anthony missed most of practice so he could visit his family in Michigan.
They all knew time was limited.
"That was the right thing to do," James Franklin said, without batting an eye.
Zettel carried out the coveted "dog bone" for the defensive line, when the team ran out to the field the last two Saturdays. The d-line calls themselves the "Wild Dogs", and the dog bone is one of their symbols of unity, attacking the goal…"Wild Dogs Gotta Eat."
Zettel didn't want a big "to do" about his situation from his team. But his d-line brothers wanted to honor him in some way.
"I have to keep doing what I know my Dad would want me to do, and that's play football," he told us.
After leading the team with seven tackles, and recovering a fumble against San Diego State, Zettel hopped in a car with his family to head back to Michigan. Ogemaw Heights High School was having a celebration of life service for Terry on Sunday.
No doubt, there would be plenty of hugs to go around there, too.
——-
"Big Man Running" … 
What might have been just as entertaining as watching a 320-pound defensive tackle run 71 yards for a scoop and score?
Watching Austin Johnson's reaction on the sideline afterward. As teammates surrounded him, and started humorously wiping his brow with towels, he looked at all of them, huffing and puffing and gasped, "I'm tired!"
For good reason.
Catch your breath, and enjoy this run again, and Kevin Kugler's call of "Big. Man. Running…"
Austin Johnson's 71-yard TD run
—–
Next Man Up …. 
Penn State lost its top two running backs on Saturday, and we don't know officially if the losses will be short or long-term.
In the meantime, getting to know Nick Scott seems appropriate.
Before he, and Mark Allen, were thrust into some playing time Saturday, Scott had been the Special Teams Captain for the last two weeks.
What stood out to the coaches, might have gotten missed by the typical fan. Scott had been consistently the first guy to the endzone on most touchbacks.
"This is what we all should be," Charles Huff, PSU's special teams coach said he told everyone in the film room.
Scott would cross the goal line, almost leaning forward, as if he was "breaking the tape" in a race.
Huff laughed at remembering the visual.
"You might as well have fun with it, I like that he added his own flavor. You can walk the line, just don't cross it. He's right on the line," he chuckled, then added, "You need your reps, you need experience, it doesn't matter where they come from."
Now, they could be coming more often in the backfield.
—
RB Room Rapport 
Speaking of running backs, Huff, also the running back's coach, made an interesting observation about their rapport this year.
He called it a "brotherhood", saying Akeel Lynch, the veteran of the group, does an unbelievable job using his experience to coach up the other backs.
"Controversy is not a 'c' word that exists in our room," Huff said. "The 'c' word that exists is competition."