Photo Courtesy: USNews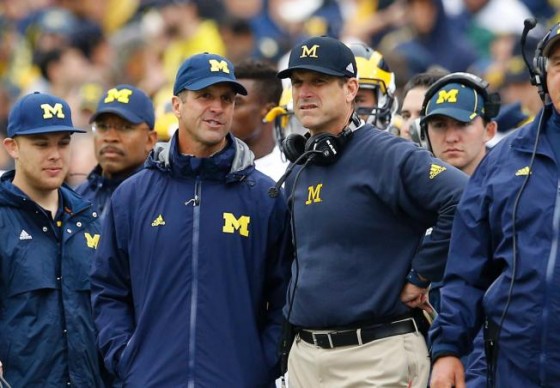 The impressive maize and blue crowd, which showed up at Byrd Stadium, started chanting for Harbaugh on the sideline.
But this time, they were calling for the one wearing jeans, not khakis.
John Harbaugh, decked out in all-Michigan gear and fresh off a come-from-behind win with his Ravens this past Thursday, turned to the Michigan section and beamed.
"We gotta get some points!" he screamed, as the crowd cheered back. At the time, in the first quarter, the score was still 0-0. "And you guys are great! This is a great crowd!"
John Harbaugh seemed to enjoy every interaction that came his way Saturday afternoon. One in particular made an impact on me. A local news reporter/photographer, shyly approached John Harbaugh at halftime to ask him for an interview. I appreciated this interaction, because I too, have been there – the, "one-(wo)man band interviews".  It means you shoot with the camera on one shoulder, while you hold the microphone in the other hand.
This particular local news reporter/photographer, cautiously asked Harbaugh for an interview. And it was granted. Subsequently, afterward, this "one-man bander" walked away with almost as big of a smile as the Harbaugh wearing jeans on Saturday.
John IS the older brother, but he got a gift from younger bro Jim on Saturday, which he will always appreciate.
"Watching him do his job, from right behind him, I've never done that before, this is a first-time ever," he said to me, beaming ear-to-ear.
John Harbaugh interview on sideline
——
Mario Ojemudia Injury
As a sideline reporter, you learn to read body language.
And beyond the fact Mario Ojemudia couldn't put any pressure on his right leg, his demeanor told me this injury was not good.
Jim Harbaugh confirmed after the game, it could be long-term, citing a possible Achilles injury.
Ojemudia pounded his fists against the bench, rested his head in his hands multiple times, and when his defensive line coach, Greg Mattison, came over to console him … Ojemudia could barely make eye contact.
This was serious.
Michigan's Defensive Coordinator, D.J. Durkin reiterated to me after the game what a good person and player Ojemudia is, but also stressed that one of the strengths of this Michigan defense is the depth at its d-line.
It will most likely come into play now.
Mentor to Mentee … and back again…. 
Speaking of Durkin, his relationship with Mattison is one of the keys to this Michigan defense — a defense that posted back-to-back shutouts for the first time in 15 years.
Durkin is the main in charge now, as the defensive coordinator. Mattison now answers to Durkin, as the defensive line coach.
Things have come full circle.
The two first met in 2003, in South Bend. Mattison was the defensive line coach at Notre Dame, and Durkin was the graduate assistant.
Mattison told me he was immediately impressed with Durkin – that someone so young could have such a solid understanding of the game.
At the time, Durkin was just happy someone noticed him.
"(Mattison) was so experienced and established as a coach in our profession, it meant a lot that he took the time to help me as a coach," Durkin said. "That says a lot about him as a person. We became good friends, we remain close, and our families are close."
That's nice. But …
The d-line coach HAD to of made the grad assistant go fetch coffee or soooooomething, right?
Mattison laughed, "Lisa, those are the stories I CAN'T tell you."