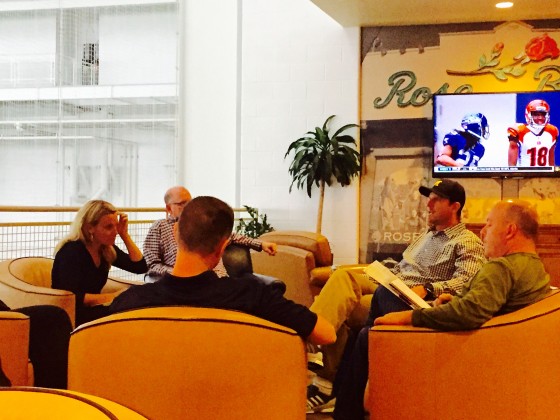 The Khakis….
Jim Harbaugh sat with our crew Friday afternoon, wearing a blue and white checkered button-down shirt, his normal khakis, and the usual Block M hat.
A man walked into the room, past us, and Harbaugh pointed toward him.
"He's actually the reason I wear khakis," the first-year Wolverine head coach just matter-of-factly dropped on us, during our football conversation.
What?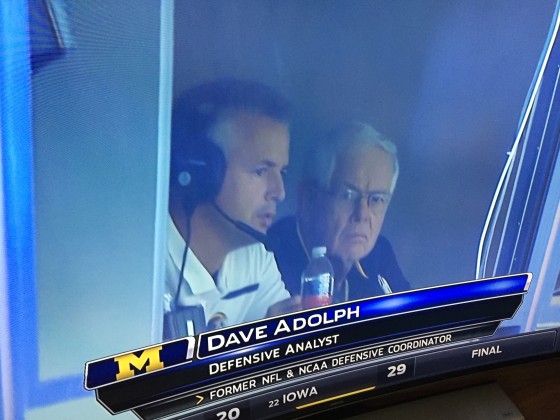 Dave Adolph, listed as a "defensive analyst" now for Michigan, laughs at the claim.
Adolph is a retired football coach, who worked several years in the NFL and college ranks, and was also on Harbaugh's staff at San Diego.
Adolph told me HIS version of the story from their time in California together.
"I saw him at one of the first practices (at San Diego), and he was wearing shorts. You don't want the CEO of a company to wear shorts, right?! I thought the same thing about the head football coach of a college program." He laughed and added with a wink, "He looked like he was going to the beach … I was just trying to class him up!"
Harbaugh took the advice from a more practical standpoint.
"To me, khakis are sometimes easier than shorts .. and they're more practical than sweats." He then pointed toward his front and back pockets, stating the importance of having a place to put his practice plans and play sheets, "And look! I have four pockets!"
The hat … 
And when does he ever take the Block M hat off?
He smiled at me and deadpanned: "When I sleep."
Then came a pause. A smile. And he corrected himself … "And when I shower, too. Also, when I eat. Because I was raised well."
Another smile …
Another year for Ojemudia? 
Harbaugh also told us he is interested in at least gathering more information about trying to petition for another year for defensive lineman Mario Ojemudia.
There have been some unique cases the NCAA has heard, and granted.
Ojemudia had successful Achilles surgery the Thursday leading into Northwestern. His defensive line coach Greg Mattison visited him at the hospital.
"I told him to be patient with his recovery," Mattison told me Saturday. "The players who have trouble coming back from that kind of injury always rush it."
Defensive coordinator D.J. Durkin told us he thinks Ojemudia "has football in his future, somewhere." And … "I feel bad for him, he was just starting to understand the position."
A first at the Big House … 
Northwestern and running back Justin Jackson would like a mulligan on Saturday, with a much different performance and outcome.
Still, some of that day was a special one for the Jackson family, especially in the pregame.
Jackson's father, Phil, was in the stands. He grew up in Detroit and was a big Michigan fan. After high school, Phil Jackson moved to Illinois and never returned to live in Michigan. Saturday was his first time watching a game IN the Big House. Ironically, it came watching his son play AGAINST Michigan.
"This is special," Phil told me in the pregame. "Regardless if you're for or against Michigan, being here at the Big House is an experience."
His son was recruited by Michigan to be a corner, not a running back. Justin told me it's one of the reasons why he eliminated the Wolverines from his choices. His Dad remembers that process too, and a conversation he had with his son.
"I told him to pursue your dreams, and do what you love to do. You will make the right choice for you, and he did," the elder Jackson recalled.
"My son is so inner competitive, Saturday is not about proving a school wrong," he added. "It's about being the best him, proving someone else wrong is just not him."
By the way, you won't find any maize and blue in Phil Jackson's closet at the moment, just purple and white for now.