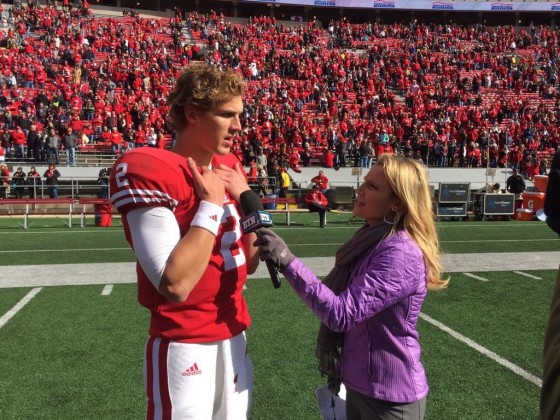 Photo Courtesy: Wisconsin Football. Picture from postgame of Purdue game.
It wasn't a surprising reaction, but it was definitive.
During the second quarter, I stood in the loading dock, just outside the Wisconsin lockerroom.
Through an open door, I was able to catch a visual of quarterback Joel Stave. He took one shoe off and threw it against the locker. He did the same with his second shoe.
His day was done.
Out. Head injury.
As any competitor would, Stave wanted to return to the game. He wouldn't be able to this time.
We will have to wait to see what this week holds.
Clement FaceTiming….
Running back Corey Clement didn't make the trip to Champaign. Just three weeks removed from sports hernia surgery, it was a mutual decision by Clement, the coaching staff and the doctors.
But he was still plugged in.
Bright and early Saturday morning, Clement FaceTimed his running backs coach and athletic trainers to show them he was going through the appropriate training and treatment.
I asked (running backs coach) John Settle what the chances were of seeing Clement play this week versus Rutgers.
He smiled, "Corey is a New Jersey guy, he will do everything he can to be ready."
Stave and Cubit 
Before the Stave injury, the side story between the Badger QB and the Illinois interim head coach was an intriguing one.
When Bill Cubit was the head coach at Western Michigan University, he was the only one to make a scholarship offer to Stave. It came in December of his senior year in high school.
Stave told me before the game, "I had my mind made up I wanted to walk on at Wisconsin."
"I loved Coach Cubit. He was honest in the recruiting process, I was a quarterback at his camp (at WMU), and I liked the way he coached."
Cubit said he is not surprised with any success Stave may have in Madison. "I am more surprised about what happened to him last year. He is such a smart kid, and he carried himself well."
Another side story to the side story? Cubit also offered (former Michigan State quarterback) Kirk Cousins while at WMU. Before Cousins waited on a REALLY late offer by MSU, THAT was also one of Cousins' only FBS options.
Dudek Redshirting
As reported during the game, Illini wide receiver Mike Dudek's season is officially over after tearing his ACL this past spring.
He confirmed to me Saturday he would pursue a medical redshirt.
"I feel faster," he said. "But my leg fatigues easy."
Dudek told me he could do everything now …. sprinting, cutting, route running.
Ke'Shawn like Emmitt ? 
Bill Cubit was the quarterbacks coach at Florida when Emmitt Smith played there.
His current running back at Illinois, Ke'Shawn Vaughn, reminds him of the Hall of Famer in one way: both lefties.
Cubit says Smith, a left-handed player, would always prefer to carry the ball in his left hand, rarely wanting to tote it in his right. That's similar to the way Vaughn, also a left-handed player carries the football in Champaign.
Nathan Scheelhaase, Illinois' running backs coach, says he is trying to work with Vaughn on covering up the football with two hands, if he doesn't feel comfortable switching mid-run.
In fact, the true freshman back is getting all kinds of guidance, even from the injured Josh Ferguson.
Though not the flashiest responsibility a running back has, Scheelhaase says Ferguson has helped Vaughn the most with his pass protection.
"A lot of young guys want to wait (on the defender)," Scheelhaase told me. "(Ferguson) has helped him in teaching him to go at people."
Illini Pride 
I stood with Bill Cubit midfield before the game, and he was smiling watching the fans pour   into the stands.
"I know it's Homecoming, but when our busses drove through campus today, you could see double the tailgates," he said. "I know these fans are dying for something good to happen to this program again."
Cubit added that former Illini running back Pierre Thomas spoke to the team in the pregame.