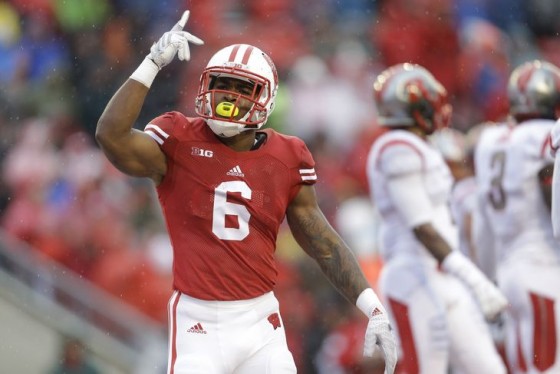 Photo Courtesy: Mike McGinnis/Getty Images
Going into last Saturday's game against Rutgers, Wisconsin running back Corey Clement had carried the ball just eight times for the year.
Plus. He hadn't played since the season opener.
And. He was a month removed from sports hernia surgery.
Not to mention. He hadn't reached the endzone in 2015.
So. When Clement DID finally get to pay dirt for the first time this season, he threw the ball high in the air.
Whistle.
Penalty.
He got slapped with excessive celebration, and an earful from Head Coach Paul Chryst after he reached the sideline.
The Chryst lashing even kept Clement from doing his traditional sideline handshake with fellow running back Dare Ogunbowale after a score.
No matter — he would have two other times to try that on this day.
When the game was complete, and Clement was able to talk about his three-touchdown, 115-yard day in the postgame, he provided the most apropos Halloween analogy, on Halloween, to describe his excitement.
"It felt great, it felt like your first Trick Or Treat," he said smiling ear-to-ear. "You get to the first door and get your first basket of candy. I was very ecstatic. My team was right behind me and just feeding off the energy and the crowd was awesome."
Every Wisconsin coach we talked to said this rehab process was driven by Clement. He would know when his body was ready.
Clement drove most of that process, except for one minor request left unfulfilled.
"I asked the coaches if I could start today," he smiled at me, then laughed. "They told me no. Not today. That kinda made me mad."
It's a step-by-step process for Clement. He took a lot of the right ones on the field Saturday.
Wisconsin vs Rutgers Highlights, plus Clement Postgame interview.
Recruiting Rudolph 
Offensive Coordinator Joe Rudolph was a part of Barry Alvarez's first recruiting class at Wisconsin. But he didn't come to Madison without a tiny struggle.
When Barry Alvarez was the head coach at Wisconsin, he was tipped off by his own cousin (who knew the Rudolph family), and said, "Check this kid out."
So Alvarez sent an assistant to go watch him play basketball.
The evaluation?
"Athletic, but NOT a linebacker."
Ironically, linebacker was exactly the position Rudolph played. And wanted to play in college.
"My goal was to be the biggest linebacker in the Big Ten," Rudolph laughed.
Alvarez offered him, but made one point clear — we are going to make you an offensive guard, a move Rudolph resisted at first.
"Look, you're a linebacker that runs a 5.4 — we're going to make you a guard," Alvarez told me he said to Rudolph. "End of story."
He became an All-Big Ten guard.
"He knew what he was doing," Rudolph admitted.
Spooky Staff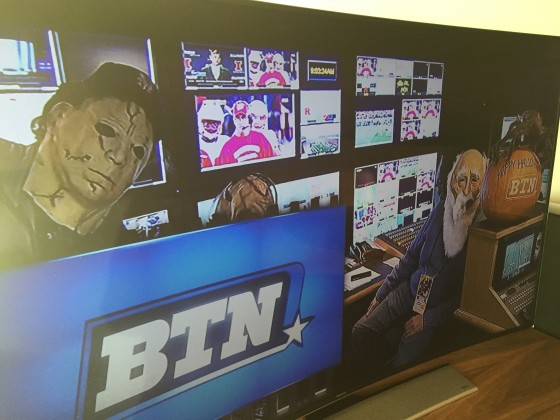 We do TV.
But it doesn't ALWAYS have to be so serious.
I enjoyed "seeing" some of our "behind-the-scenes" guys and gals going in front of the camera in a Halloween-themed salute.
Some of the spooky snapshots….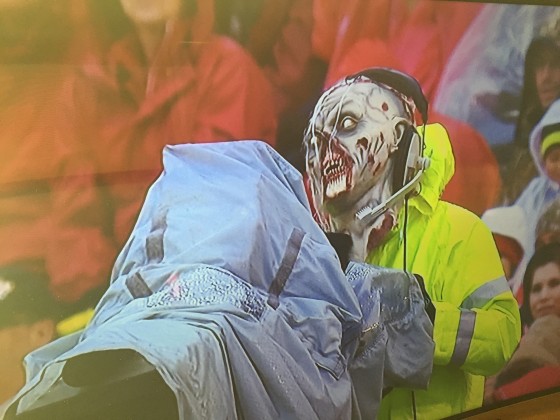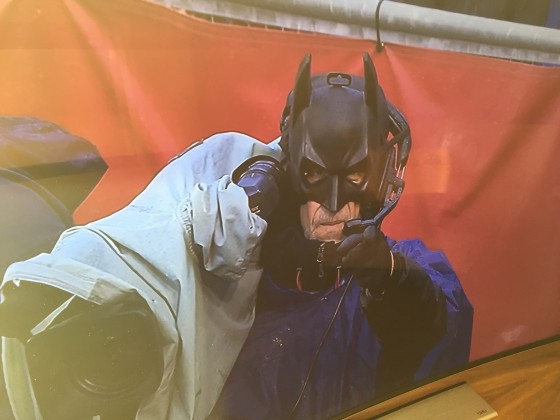 They are awesome.
And make us look awesome. Or try to. (It's a tough job).
DiNardo's High School Days
In case you missed it, we traveled back in time to Gerry DiNardo's high school days.
DiNardo went to the same high school as Rutgers Head Coach Kyle Flood, though almost two decades apart.
In fact, St. Francis Prep has a long list of notable alumns. Vince Lombardi and Joe Torre are more.
Enjoy the old school photos … I did!
Gerry DiNardo/Kyle Flood at St. Francis Prep