Mirror, Mirror, on the Big House wall … who's the fastest of them all?
We've heard the debate before. We've heard some of the responses before.
The fastest Wolverine football player on this year's team is……
Perhaps Michigan Defensive Coordinator D.J. Durkin said it best: "There will be some commentary on that."
Friday during our production meetings, Jim Harbaugh didn't bat an eye when he answered: "It's Jehu Chesson."
That's something he has said to the media before, but then he added this nugget … "We have raced them."
Is there video?
"Yes."
Can we show it?
"Yes."
So here it is: Michigan Football Speed Test
A 30-yard sprint. The interesting parties are WR Jehu Chesson, all-everything Jabrill Peppers, and CB Jourdan Lewis.
Chesson is the clear winner in this speed group. Harbaugh makes sure he tells us they film these races from the "front and the side, to make sure we see who wins."
Morris Will Redshirt 
Harbaugh ended all speculation about Shane Morris' future this season in our Friday production meetings.
He told us Morris is going to redshirt.
"He came to me early in the year and suggested that," Harbaugh said. "He said 'If I am going to play, I want to play…" but then suggested he would rather redshirt if he was going to be a backup this year.
Pending any injuries, that will be the plan.
Harbaugh said it…about Aaron Rodgers: 
Conversations sometimes go in several different directions during our Friday production meetings with the home coaches.
The topic (for a brief moment) turned to Aaron Rodgers.
Harbaugh recalled watching film, which had been cut on specific situations on the Green Bay Packers quarterback.
When he started to watch it, he paused and asked others in the room, "Please tell me this is a highlight tape."
"Nope," came the response. "It's of all his third-down plays."
Peppers back at Paramus Catholic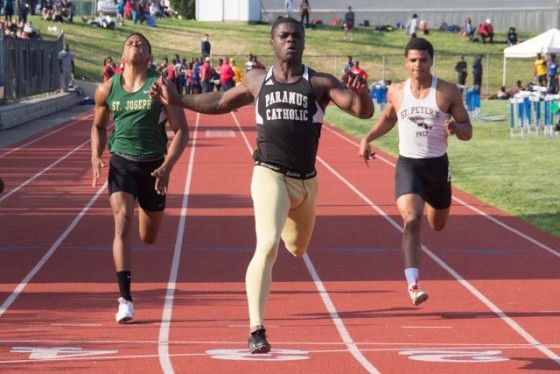 Saturday was the first time the New Jersey native played against Rutgers.
Though Jabrill Peppers' name is one of the hottest right now in college football, the folks in New Jersey and at Paramus Catholic High School, have been familiar with his athleticism for a while.
Take a look at the photo above.
Though we've established Chesson is the fastest on Michigan's team right now, Peppers' speed is still something special. In the photo above, the athlete on the right (wearing the St. Peter's uniform) is Minkah Fitzpatrick, who's now a freshman at Alabama and playing significant time on defense and special teams. Peppers beats him in this regional race pretty convincingly.
Peppers won 12 straight meets from 2013 to 2014 in the 100. His best high school time in that event was 10.51.
In fact, he became just the second male athlete in the state of New Jersey to win state titles in back-to-back years in the 100-and-200-meter races. Some big names have raced in the state, like Carl Lewis, and he didn't do that.
But even with Peppers' track prowess, his love of football dominated.
"It made me laugh," said Scott Langan, Peppers' track coach and Paramus' athletic director, "You would see a kid with that size and with that talent, and he would turn into a five year old when he would see a football being tossed around in the parking lot at a track meet. You would have to keep track of where he was (during the track meet) because he might miss a race since he was throwing the football with some 10 year old."
McDaniels Brothers: 
Rutgers' Offensive Coordinator Ben McDaniels looked around Michigan Stadium in the pregame.
"I have good memories of this place," McDaniels told me, remembering his only other time he had been in the stadium.
It was 2005, as a graduate assistant for Minnesota. Glen Mason's Gophers upset Michigan on that day.
2015 would not provide the same kind of feeling for McDaniels, who had his father, Thom, in the stands on Saturday.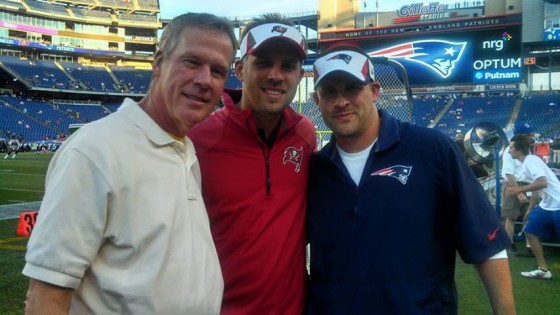 (Thom McDaniels, Ben and Josh)
Thom McDaniels has been by both his sons, through the highs and lows of their coaching careers. (Josh is the Offensive Coordinator/QB's coach for the Patriots.)
Thom McDaniels understands the up's and down's, because he spent many years as a prominent high school coach in Ohio.
"I am living a dream, watching them do what Dad did, but at a much higher level," he told me.
When both Josh and Ben showed interest in high school, about going into coaching, it was Dad who encouraged them to pursue it at the college level, and in a graduate assistant's position.
So Ben worked with Mason at Minnesota. Josh with Nick Saban at Michigan State.
"Football is all we knew," Ben said. "If we weren't at practice, we were at a stadium. So it just made sense for the both of us to go into this."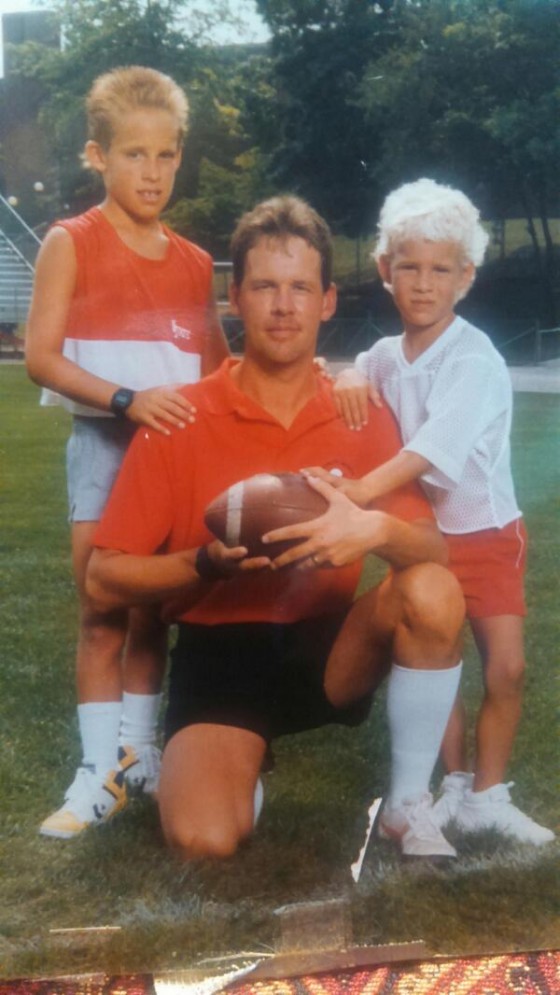 (Josh, Thom and Ben McDaniels) 
According to Ben, the two brothers still communicate on a weekly basis. Though Rutgers has fallen on hard times, their goal every week is to go "2-0 for the McDaniels family."
A win for the Patriots. And a win for Rutgers.
They are cheerleaders for each other now, but not all of the brotherly competitiveness has been lost.
Like with fantasy teams.
Both are big racing fans, and they currently compete in a NASCAR Fantasy League.
It's a competitive fire, which began early, as Dad remembers fondly:
"We would be at church, and during the moment of the service where you would extend a sign of peace to everyone (shake their hand), those two would see who could shake the most hands," Thom laughed. "They moved up and down the aisle at great lengths …saying I got 12 hands … Dad may have been competing as well."