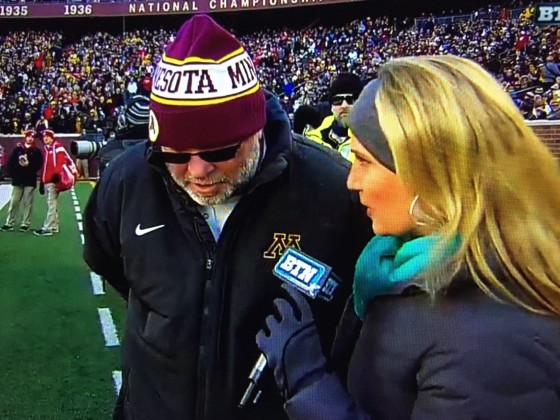 "Jeeeerrrrrrry, Jeeeeeerrrrry, Jeeeeeeerrrrry" came the cheers from the stands as Jerry Kill walked through the Minnesota tunnel.
He had made that walk and heard that cheer before, but Saturday may have been the last time.
Since retiring as the Minnesota football coach, Kill has physically stayed away from the program.
But he hasn't been out of touch.
He told me he still texts (and gets texts) from some of the players, especially quarterback Mitch Leidner, whom he is closest to. Tracy Claeys told our crew he talks to Kill about 2-3 times a week, and calls him every Friday night.
Kill has spent a majority of his time away in Florida with his wife. On Saturday, I had to do a double take with his new look and his beard.
"I'm unemployed now ya know…" he laughed at my comment about his beard. "So I can let myself go a little bit. But my wife might make me shave soon."
He spent some time with the team on Friday. His message to the players was really simple.
"I told them this game (versus Minnesota) isn't about me. So I had every senior stand up and address the team instead," he smiled. "If that's not the greatest testimony of who to play for, I don't know what is."
During the game Saturday, Kill had to stand outside the bench area, so he wouldn't be considered an extra coach during the game. It wasn't easy for him. Here's a conversation we had during the game in the first quarter:
Stave ties the record 
After Saturday, only two Wisconsin quarterbacks have ever reached 30 wins in their careers.
Brooks Bollinger and Joel Stave.
I had a chance to talk to Bollinger Saturday morning before the game.
"I told Paul (Chryst) to tell Joel to break it and to celebrate with him after," he said. "It's one of those records that's not necessarily a personal record, it's the teams you had an opportunity to play on."
"I am proud to be a representative of the group for that record, and I would love nothing more than for Joel to break it. It means the program continues to grow and get better."
Bollinger coached with Chryst for two years at Pittsburgh. And he had this to say about how Chryst develops quarterbacks.
"I can't speak for Joel, so I'm just kind of speaking on what I know about Paul, on how good he is getting his hands on a quarterback… training them and teaching them. He's great from the psychological side and leadership side… the personal side. Everything kind of stays in perspective with Paul. He loves football. Loves to grind. But it's all done within the context of developing these guys into young men, having an impact on them that stretches far beyond the field."
Maye Day
KJ Maye had his senior day on Saturday, but he's hoping for more football in his future.
Maye has had a breakout year, and NFL scouts have started to take notice. In fact, in talking with some of the Minnesota coaches, they told me early in the year, most of the scouts were coming to look at DBs Briean Boddy-Calhoun and Eric Murray. In November, scouts were making return trips to Minneapolis JUST to watch Maye. The difference? His performance against Ohio State: 10 catches for 116 yards.
"You don't put up those numbers against Ohio State and not get noticed," one of the Minnesota assistants told me.
"(KJ) has taken advantage of the opportunity he has been given this year. It wasn't a matter of the light switch turning on. He just took advantage of the opportunity. Some people run away from it, some embrace it. He has embraced it."
Stave to Erickson….
Even before the players put pads on in the pregame, you'll see two Badgers playing catch.
Stave and his favorite receiver Alex Erickson go through about a 20-minute warmup drill, executing all the routes they would most likely see in a game. This is not new for a quarterback and receiver, but it's a new routine for these two this year.
And why JUST Erickson?
"He sees the most balls during the game," Stave said matter-of-factly, shrugging his shoulders with a smile.
Yes, yes he does.