On the morning of December 23rd, just hours before his head coaching debut, Wisconsin's Greg Gard hopped in the car to drive an hour and fifteen minutes away.
He had one place to get to.
If Gard's father couldn't be physically at his son's first game, Greg Gard wanted to be as physically close to him as possible on this day.
So Greg drove the distance to his father's gravesite.
Glen Gard died this past Fall from a form of brain cancer. The loss is still painful. You could see it in the tears that started to form in Greg's eyes at the afternoon shootaround.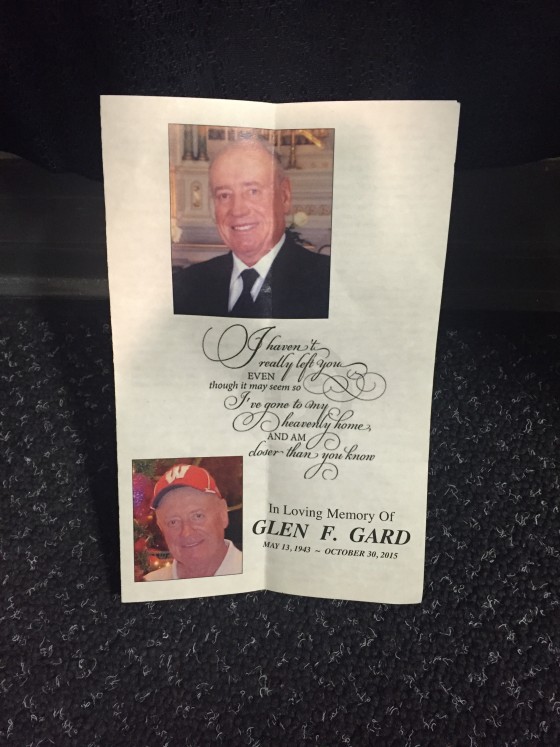 An hour before tip, we finished our pregame interview and Gard reached into the left pocket of his suit jacket and pulled out a funeral program.
It was from his father's funeral. The same program he had with him during his first press conference, just eight days ago, announcing his appointment as the Badger interim head coach.
It was Greg's way of keeping his father close to him on the sidelines.
And his way of reminding himself of the battle against brain cancer. One he plans to tackle once this season is complete.
In the stands, he would have family there watching.
His brothers and cousins sat and cheered. His mother, Connie, watched her son for just the second time since Glen passed. His wife, Michelle, was there with their three kids. One of Gard's daughters started to cry moments before tip. Her face buried in her mother's shoulder. It was the first time Greg Gard walked onto the floor as the man in charge of Wisconsin, and the entire Kohl Center was on their feet, clapping and giving their biggest Badger welcome.
"He's so calm," Michelle would tell me from the stands. "It's really our three kids who keep telling us, this will be fine."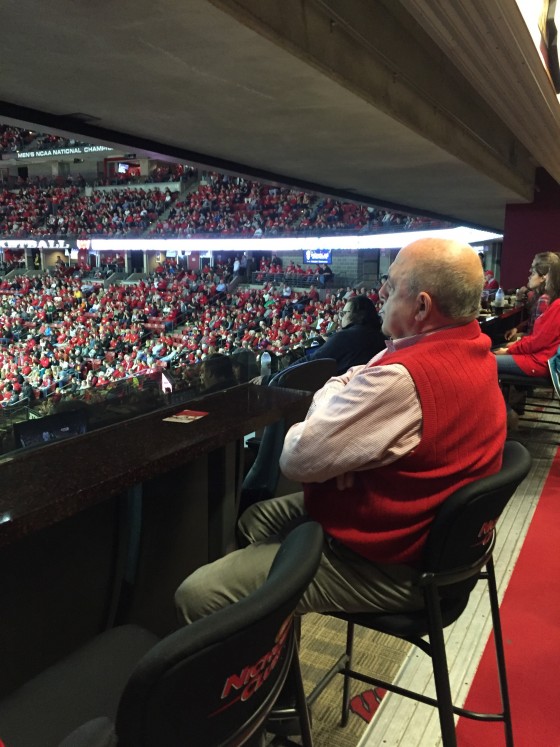 From the suites, Wisconsin Athletics Director Barry Alvarez watched.
The transition has been "easy", he said to me, describing what the last eight days have been like. Alvarez met with Gard on Friday and watched practice on Monday.
His stance remains the same: Show me improvement with this young basketball team, and prove to me you can manage a program.
Only then, Alvarez said, "I will evaluate fully," when the season comes to a close.
From the sideline, former Badger Howard Moore sat and coached. He was the latest addition to this Wisconsin team. The NCAA made an exception to adding a late assistant, considering the unusual circumstances.
Hours before Wednesday's game, Moore passed his recruiting exam and signed his HR papers.
Ironically, he was working with BTN in studio as an analyst, when Bo Ryan retired last week.
"I knew (Gard) would call me," Moore smiled at shootaround. "I was the only one who was unemployed, and trying to be a broadcaster!"
He beamed his infectious smile and laughed.
Moore's two kids, both under the age of 10, were all in for their dad to return back to Madison, and temporarily be away from their home in the suburbs of Chicago.
Moore's message to the team, just two days into the job?
Use me.
"I am living in a hotel for the next three months in Madison for you," Moore told the team in his first meeting. Use me. For a late shoot, for advice, whatever.
The team has bought into the change so far.
During a second-half timeout, Gard turned to his veteran point guard Bronson Koenig and challenged him.
"Do you want to be our point guard?!!" Gard exclaimed in the huddle.
Koenig looked back at him, directly in the eye.
"We need you as our point guard and as our quarterback," the interim head coach shot back, while tapping him on the knee.
Next play out of a timeout, Koenig hit a three from the corner.
Player challenged. Veteran responded.
Lead grew. Then it dwindled.
Wisconsin did not close out the game the way it wanted. The Badgers nearly relinquished a 30-point advantage, after some alarming second-half turnovers.
"We let the pressure get to us," Gard would later say. "Hopefully we can grow from this…there won't be a lack of clips when we get back from Christmas."
As frustrating as the final few minutes may have been to Badger fans and their team, it was a win.
And it was Gard's first.
It was a moment he had waited for, really all his life.
I approached him on the court, microphone in hand, camera close by.
Gard looked at me and said, "I want to wait to do this interview with the team behind me."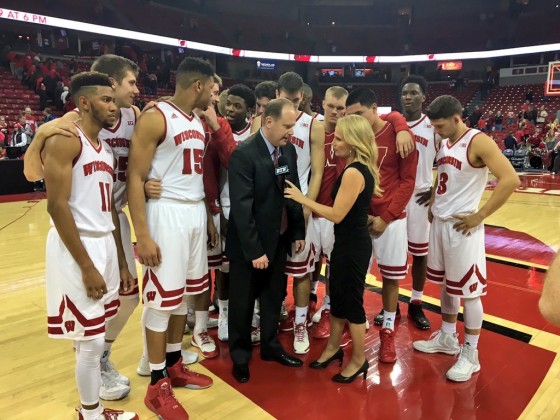 Photo Courtesy: @BadgerMBB
I nodded, and we waited.
Not far from us, the players finished singing the alma mater with the Kohl Center crowd. Their new coach called them over to center court.
"It was never about me," Gard answered, discussing the meaning of this day and this night. "That's why I wanted them behind me. I'll show them the way, we will help steer them in the right direction, but it's these guys who are the most important thing."
He finished the interview, and the players embraced him, ruffling his hair and cheering.
The changing of the Gard had officially begun.