I watched.
My eyes were fixed on two shots suspended in the air.
One came on Monday. One on Tuesday.
One, on the men's side and the other, on the women's.
Both were the final two shots taken for their respective college basketball seasons.
Two Shots.
Two Tourneys.
Two Takeaways.
Let me tell you something. I can only stand eating one cheese curd, I sometimes pick off my mozzarella from my pizza, but I am a sucker for cheese. Or rather, the "softer side" to things, I like to say.
In 1987, when the One Shining Moment song first came out, I fell in love immediately. See, a DVR was a VCR back then. It has been so long that I even had to google "VCR", to make sure that's what we called them. And so, I taped the '87 National Title game between Syracuse-Indiana using my VCR, on a VHS tape. The next morning, I took a cassette tape recorder and I held it up to the TV speakers. I pushed play on the VCR, and I hit record on my cassette recorder, and that's how I got my first copy of One Shining Moment. Task complete, I threw the cassette in my walkman, plugged the headphones in my ear, and I sprinted out to the driveway to make my own One Shining Moment.
Monday's shot was everything created from my driveway.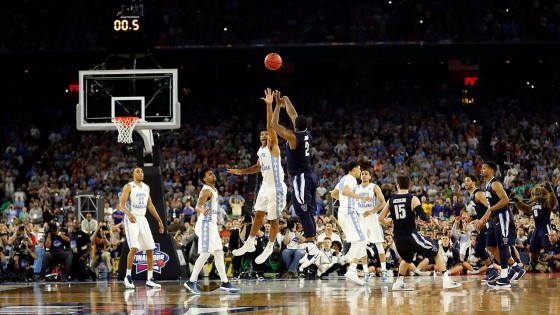 Photo Courtesy: AP 
In fact, Kris Jenkins' national championship winner proves fairytale endings aren't just for Disney. He shouldered all of our childhood dreams, and all of our  5…4….3….2….1  moments from the backyard, playground, or alone in a gym.
Villanova defined greatness in the tournament. The Wildcats shot the best percentage (58.2%) for a national champion … ever. They had the largest win in Final Four history. They were playing the best basketball of the tournament. The final exclamation point came after a long, 31-year wait, and all stinkin' 2400 seconds of the national title game.  And it's everything to celebrate.
From the story of Jenkins, who was playing against his brother on the other bench, to the man who made the pass, Ryan Arcidiacono. "You never dream about making the pass," he joked after.  He is the Final Four MOP, who would normally take that shot … but didn't.  And in doing so, or in this case NOT doing so, he held true to his mantra "I don't care if I get no points. As long as we get the win."
We learned much about the Villanova trail. The characters involved to push the story along. And the fact that you can still go out to the playground and firmly believe in a storybook finish.
As a media member, I've lost most of my "fan-dom".  I now regularly root for good stories, not teams.
If Monday was the story of back-to-back breathtaking moments, Tuesday was a coronation of domination.
In the women's NCAA championship, it was a UConn domination so great, an opponent (Syracuse) could go on a 16-0 run, and STILL be down by 17.
So, the final shot of the women's college season, had NO shot at being a game winner. This game was already won in the first quarter.
But there was an equally good story to come from the shot made with 11 seconds left.
It came from a UConn senior.
But not THOSE UConn seniors. Not the Breanna Stewarts, Moriah Jeffersons, the Morgan Tucks.
They are a senior class which has done something never been done before in the women's game – win four straight national titles.  They also went 151-5 in four years, and ended their careers on a 75-game win streak.
But the final shot didn't come from THOSE seniors. It came from the 4th senior – walk-on, Briana Pulido.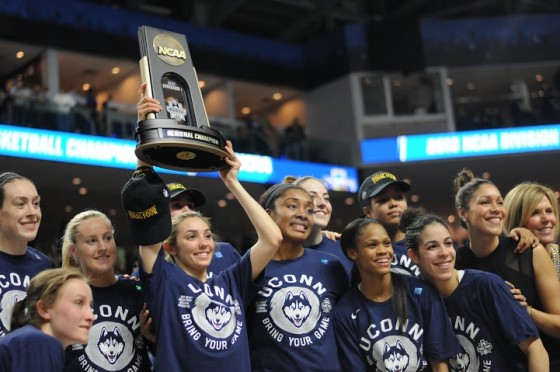 Photo courtesy: Bailey Wright/The Daily Campus
She came to UConn to compete in track. At the end of her freshman year, she saw a tweet from Stewart, encouraging walk-on tryouts for the basketball team. So she did, and she made the team. But she was a walk-on with a pre-med track. So she has had more lab reports than career points.
She wasn't invested in the program initially, and one of the things that's important to know about the UConn program is that it holds a walk-on as accountable as its All-American.
She wasn't asked to choose basketball over school. She was just asked to understand more about what "basketball at UConn" meant.
Pulido said in a feature with ESPN, "(The team's) definition of 'on-time', is 30 minutes before practice."
Say what you want about UConn. You can chide they play zero competition in the women's game, even though some of their 11 national titles had to go through names like Brittney Griner, Skylar Diggins, Nneka Ogwumike, Tamika Catchings, Kara Lawson, and Angel McCoughtry. You can say they are boring to watch because they dominate, but it's in a time and a world when domination of anything doesn't exist anymore. There are too many distractions. Too many instant gratification desires. Geno Auriemma just passed John Wooden for number of titles won, and the "Wizard of Westwood" never had to wave his wand over Twitter drama or cell phone distractions.
UConn has performed with great consistency during a time where we tend to be consistently inconsistent.
And when a senior walk-on, who had only 8 points all season, hit the final shot of the game and the women's season, the bench erupted like THAT was the game winner.
And maybe it was in a way.
It was fitting it came from a senior, who put the final touches on an unprecedented career for a historic group of seniors. It was the same walk-on who almost got kicked off the team but didn't, because she learned what "great" looked like and felt like.
Two Shots to end a season.
One to win it. One to cap it.
And as I watched, I realized there was so much more floating in the air than that.