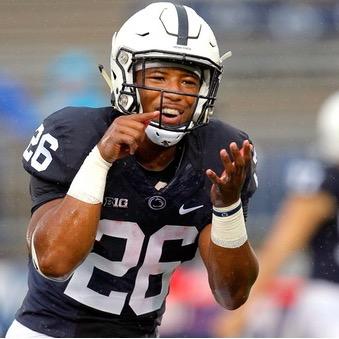 At Whitehall High School, they called him "Sa Sa". (pronounced "Say, Say")
Here in Happy Valley, they are just learning that nickname, and learning about the man who holds it. A Saturday night, two-touchdown, 195-yard performance against Rutgers added more intrigue.
"He probably wasn't ready for Temple," James Franklin admitted to us on Friday about his performance in Week 1, which generated just one carry. Franklin and OC John Donovan noticed the normal nerves and emotions any true freshman would feel in his/her collegiate debut.
He's a quick learner.
Barkley got the ball 12 times for 115 yards in Week 2 against Buffalo.
And in Week 3, the coaching staff could feel a breakout performance coming. They were prepared to give him the carries, if he showed the promise early.
He didn't disappoint against a Rutgers program he verbally committed to, back in September of 2013, his junior year at Whitehall.
"He's prepared this week like it's any other game," Herb Hand, PSU's Offensive Line/Run Game Coordinator told me in the pregame.
Christian Hackenberg knows all too well what it means to be a true freshman and get quality minutes.
"He wants to know the 'how to' and the 'who to' for a lot of things," Hackenberg said, admitting Barkley would seek him out in the summer to watch film with him. "Shooting questions at me" and Barkley's "mental approach" is what impressed the PSU QB.
Franklin won't let freshmen talk to the media.
So Saquon, for now, will let his play…"say".
—-
Lion's Blood 
Defensive Coordinator Bob Shoop has some unique ways to motivate his group.
This past week, in preparation against Rutgers, one of his tactics came full-circle.
Last year against the Scarlet Knights, Shoop brought some props to his Friday meetings with the defense. He had a handful of Icebreaker breath mints for his guys. The message? We can "break the ice" by forcing turnovers.
Penn State got five interceptions in the game.
"We had guys putting Icebreakers in their socks on the sidelines," Shoop laughed. "They were grabbing breath mints right and left during the game."
Since THAT Rutgers game, he has picked other games to motivate his guys uniquely. He won't bring props to his Friday meetings for every game.
But one year later against Rutgers, this past Friday, he did.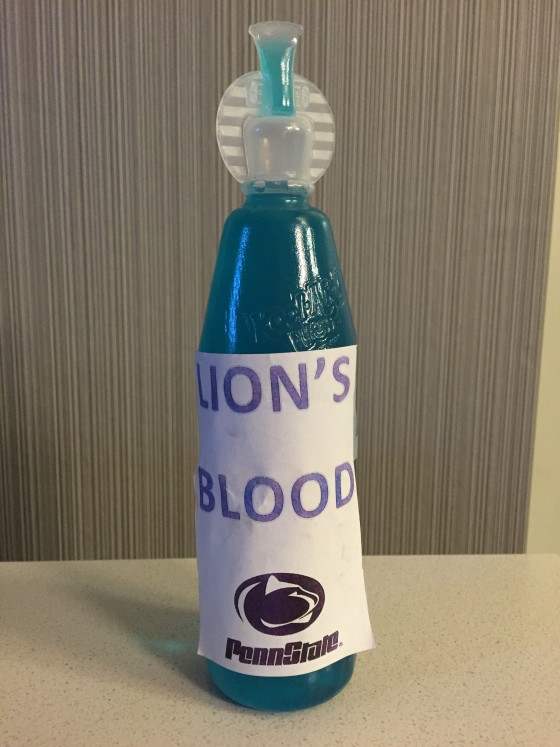 Meet: Lion's Blood.
This bottle was given to every defensive player in their Friday meeting, with this message: "Transform yourself" on gameday. To attack. To pursue like a warrior.
It MAY look like JUST Kool-Aid. But don't be fooled. 😉
—-
Joey Julius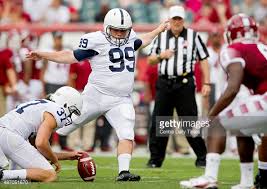 So I walked past PSU kicker Joey Julius in the pregame warmups, because I thought he was the manager.
For real.
He's listed at 5-10, 259. Before he puts the pads on, he warms up in a t-shirt, baggy shorts, with a hat on backwards. The process he goes through is entertaining. He tees up the ball, backs up about 10-yards directly behind it, then makes a sprint STRAIGHT on toward it.
Boom! …..knocks a 55-yarder through the uprights.
No problem.
"Jooooo-ey, Joooo-ey" the PSU student section chanted in the warmups.
"He's like Babe Ruth," James Franklin joked with us that Julius reminds him of Sebastian Janikowski. "What I mean by that is he's gonna swing for the fences, no matter what the distance. And maybe hit it."
I asked Julius what he thought his range was.
"Still trying to figure that out," he deadpanned.
When he puts the pads on, he does actually have a routine. "Three back, two over," he said.
For a guy, who at one point, was being looked at as a scholarship soccer player to some schools, Franklin appreciates this: "I like the fact he's a competitor and athlete…..who HAPPENS to kick."
—–
Back Home 
Lots of Pennsylvania versus New Jersey ties in this game.
Rutgers' TE Nick Arcidiacono was one.
He watched his older brother, Mark, play at Beaver Stadium for PSU as an offensive lineman many times. This would be Nick's first crack at it.
"It's awesome. It's sick (in a good way)," Nick said while walking onto the field in the pregame Saturday night.
He had about 30-40 family and friends there to support him.