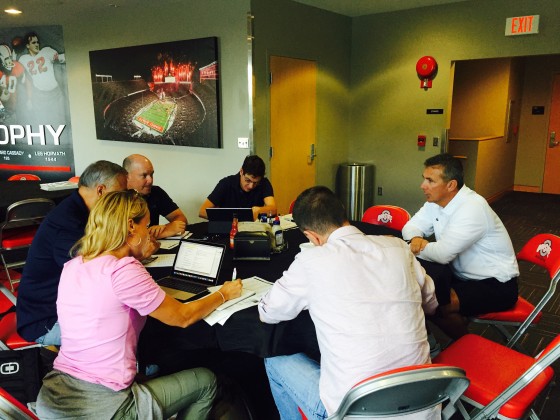 "I was a complete nutjob," Urban Meyer said while laughing.
It was Friday afternoon, during our production meetings with the OSU head coach. Meyer's answer was in response to my question about what he was like at Bowling Green, in that first year as a head coach, and in particular on that first gameday vs Missouri back in 2001.
The "nutjob" was in reference to the high demands he placed on a Falcon program that wasn't necessarily used to having those high demands. Meyer knew what winning looked like. He came to Bowling Green after working on the staffs at Ohio State and Notre Dame.
"I had to be the weight coach for the first two days, and I think I had 18 players quit in one day," he stopped and paused, "and they should have."
Bowling Green was Meyer's start to a national championship career. No one knew what kind of coach he would be. He proceeded to win eight games in his first year. Nine in his second. The college football world hasn't stopped paying attention to Urban Meyer since.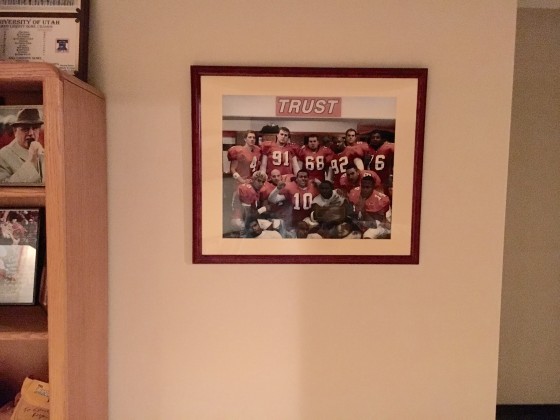 He hasn't forgotten about how special that first team was to him and his career. It's why he still keeps a photo of that first group of seniors on the 2001 team. The picture hangs in a prominent spot in his home. Still does. Always has. The Meyers have taken this photo with them throughout all of their moves, and it was one of the first items they hung up in Utah, at Florida, and now in their Columbus home.
"They are kind of like our first child," Shelley Meyer, Urban's wife told me.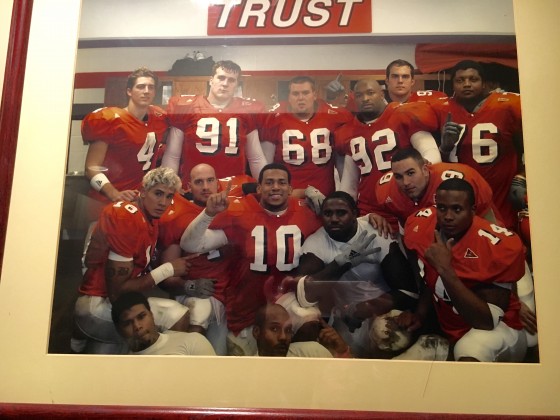 If you look to the lower left of the above photo, you'll see a blonde-haired #18. That's David Bautista, one of Meyer's wide receivers who attended the OSU-Bowling Green game on Saturday.
Though Bautista is a Bowling Green guy, he clearly was all about Urban Meyer as evidenced by his Saturday gameday attire.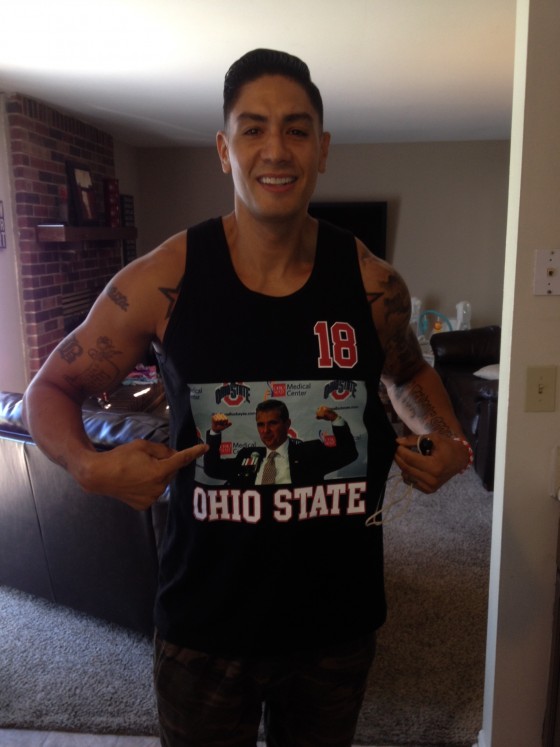 Bautista flew in from California to see this game "because Urban Meyer means that much to me."
He tells the story about Meyer's first meeting with the team, "He told us to meet him at 5 AM the next day. So we met him at the indoor facility in the morning. He basically set up a whole bunch of obstacles for us to run through for three hours straight. He set up trash cans all over the facility and said you can't throw up and you can't go to the bathroom. Good luck."
The rest is history.
"Nutjob" turned National Championship Coach.
Walk-On Who? 
Slowly, Buckeye Nation is learning more about walk-on kicker Tyler Durbin.
Durbin, of course filling in for the injured starter Sean Nuernberger, is a bit of an unknown. We know he's a soccer player from Virginia, and he transferred from James Madison after two years of playing soccer. His first day of classes at OSU was the day the Buckeyes won the national title. After all of that, he tried to make a switch from soccer to football.
During his weekly press conferences, Urban Meyer hasn't tried to pretend to know anything about Durbin.
So on Friday, I asked the obvious question:
Me: Do you know your kicker's name?
Meyer: "Durbin."
Me: "Do you know his first name?"
Meyer (laughing): "That kicker."
I asked Meyer how he has prepped a soccer player to kick field goals in front of 100,000-plus fans on Saturdays. Meyer stood up from his chair, leaned over and put his hands on his knees.
"All I have to do is stand here like this, right next to the kid, and just stare at him while he kicks at practice," Meyer said. "I start to see the sweat pour down his face. He would rather kick in front of 100,000 fans than have me staring at him."