If you look closely, can you tell it's her?
This is MY picture with Pat Summitt.
It's clearly not very personal or intimate.
It's not even a good photo.
You see, I never went to a Tennessee basketball camp when I was a kid. And I wasn't good enough to play for the Lady Vols. As a broadcaster, I didn't cover her extensively as a coach.
I didn't know Pat Summitt.
So this blurry, distant photo from a speech, where she opened up an AAU National Tournament back in the '90's, was (and is) my Pat Summitt picture.
I remember in that speech, she gave a list of things you must do to be successful. But that's about all I remember. I guess the story would be better if I could say I wrote down the list. Or if I could recall the speech perfectly.
I didn't.
And I can't.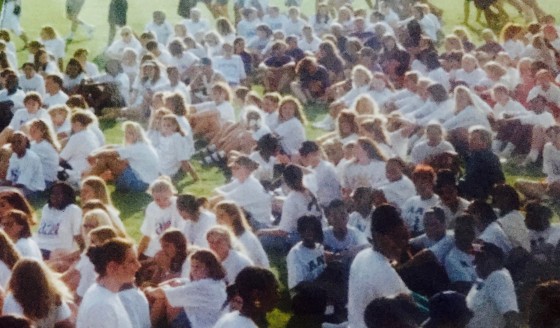 I do; however, remember sitting in the grass and concentrating on the hot, July temperatures. I focused on my teammates and friends around me. I did appreciate the fact she stood at the podium and talked to us. Who wouldn't? Afterall, THIS was Pat Summitt. But it was one of those moments where a high school kid was more mesmerized by the person, than the message. I know now, her speech came during the height of her career.
If the picture could only evolve now, to match my understanding of her impact throughout the years, that blurry photo mess would transform to pixel perfection.
So Pat, (because that's what you preferred even your players to call you), I don't remember the list of things you talked about that day.
But allow me to tell you ten things I have learned from you since….
Strong is Beautiful.
I was never on the other side of your Steely Stare, but I saw it several times on TV. I admired you as a coach, and looked up to Jennifer Azzi as a player. In fact, Stanford and Tennessee were about the only women's basketball "constants" on the tube in the late 80's and early 90's. I am grateful for that. I was able to watch you every winter. It was significant to me because of this one simple reason: Your stare through my TV screen made me realize "strong" was a beautiful thing. More importantly, it looked great on women.
Family Foundation.
We can find family in many forms. Our coaches. Our teammates. Our teachers. Our parents.
Your dad wasn't perfect, but he made the perfect sacrifice. When you were about to start high school, he moved your family to a school district where girls basketball was an option. Your family left a comfortable home for a drafty, smaller one.
Who does that for their child in the 1960's?
And who does that for a GIRL to play sports in the 1960's?
Your dad did.
And maybe if he didn't try, you never would have later.
What opportunities are we making for others?
Trailblaze.
Go ahead. Play college basketball pre-Title IX. Use athletic tape for your numbers on your jerseys, before you got "real" ones. Hop in two, borrowed station wagons to get to your road game. Do it. Because it felt worth it to you, and you didn't care if anyone else had done it before. Be a head coach of a nothing program at 22 years old. Oh, and don't forget to train to be an Olympian at the same time. Might as well pick the program's nickname, too. Lady Vols stuck. So did winning. Lots of it. But only after you fought the state of Tennessee to allow women to simply cross halfcourt to play both offense and defense.
Make the trail. And people will follow.
Greatness Inspires Greatness.
UConn.
Geno.
You set the standard for them. You inspired them.
NO ONE can say that.
Honesty.
Not sure if your in-the-face Michelle Marciniak open "teaching moments" on the court would fly during this time of sports.  I would hope that this world wouldn't change you. Something tells me it wouldn't. Your discipline had purpose. "I had to hurt a young woman to her core. Often players don't know they are withholding something until they are pierced….then you can show them how to rebuild in the right way."
Tough love is not neglect. It's the strongest love out there.
Imperfectly Perfect.
You lost your father. Your marriage. Your health. The six miscarriages. We remember the eight Tennessee national titles. We forget your first seven Final Four losses to get there.
Your Giving Tree.
The World of Basketball is connected to your roots. The Coaches. The Players. Too many to name…
What a life tree. What a legacy.
Invest in People.
The return of your investment in others can't be measured in a boxscore or in a trophy case.
Tell me how your players talk about your program, when they aren't playing for you anymore. Show me the ones who come back, when they don't have to.
The return is that your players returned. Year after year. Decade after decade.
1098.
The most wins all time, in Division I men's or women's basketball.
1098 is a COACHING accomplishment. Not just for women's hoops. My hope is that we remind ourselves of this as much as we can.
1. Humility
You showed us what battling a debilitating disease looks like.
And you asked us for help.
Maybe THAT ended up as your greatest achievement

The days have turned into years now.
This photo will always be fuzzy, but the picture is much clearer to me now. I realize we didn't need to meet you, to know you. You didn't just teach players, you influenced them. You didn't just coach basketball, you impacted sports. And life. And us.
Maybe something more registered with me on that day than I realized.
Pixel Perfect.
Thank you.