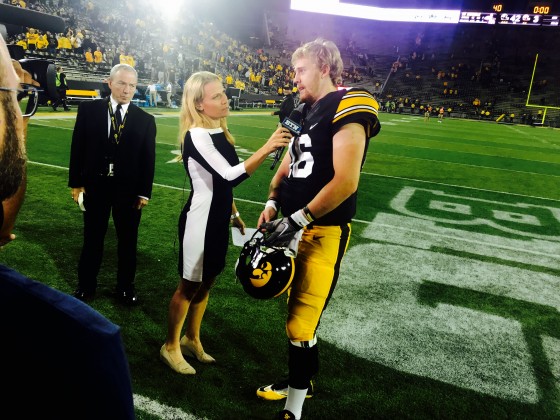 He smiled when I asked him.
"A lot," was CJ Beathard's answer to how many plays he checked at the line of scrimmage on Saturday night against Iowa State.
It's part of the freedom and trust level that comes between a quarterback and an offensive coordinator who have worked together for five years now.
"He has a voice now," said Iowa's OC Greg Davis.  "We are at the point where I can ask him what he wants. And he'll tell me. An inexperienced quarterback will just kind of say, 'Oh…whatever you like or whatever you want to do is fine."
Beathard had 238 yards and four touchdowns against the Cyclones. In fact, in his first nine pass attempts, he already had three scores. You ask his teammates how he is better, how he is different this year, and they'll tell you he openly demands more fundamental excellence than perhaps anyone else on the team.
Running back LeShun Daniels recounts a time in practice when a receiver went up and made a great one-handed catch. While everyone celebrated the feat, Beathard walked up and told the receiver he needed to make a two-handed catch.
"He was sending a message," Daniels said. "That when games get tougher as the season goes on, we need to win on fundamentals."
RE"CENTERING".
Iowa lost James Daniels, its starting center for the Iowa State game, and most likely for more weeks to come.
And offensive line coach Brian Ferentz didn't shy away from describing what kind of impact NOT having James Daniels could mean for the Hawkeyes.
"We lost an All-Big Ten center," Ferentz said. "I truly believe that, and he's that good."
Daniels had a meniscus cleaned out this week, and it was on the opposite knee from what he hurt in the spring. Ferentz said Daniels could be out three weeks.
He was a player Iowa offered early. They liked his pedigree. His father played on the offensive line at Ohio State when Orlando Pace was an underclassman. His mother was a track athlete with the Buckeyes.
Oh, and as we know, James' older brother LeShun also plays for Iowa.
"I never recruited him," LeShun said to me about the process his younger brother took. "I wanted the decision to be his."
Kirk Ferentz remembers going to the Daniels house on a home visit for LeShun, and he recalled a skinny James at the time. He added: "That family has two more coming… another boy and a girl. And they're both great athletes."
BOBEK'S LAST HOORAH
Brian Bobek has been a traveling man.
Iowa State is his third school in six years. He started at Ohio State, loved Jim Tressel, but moved on during the coaching change. He transferred to Minnesota, loved Jerry Kill, but injuries kept him from playing out his entire eligibility.
So with a year left, he was forced to make a decision: Try to chase a pro dream or play one more year of college football somewhere?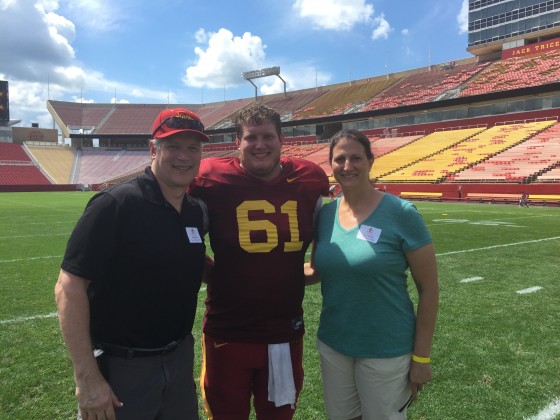 His family was really active in helping him with the choice, as was an NFL scout. The message? Play one more year of college football to prove yourself and show you're healthy.
"I wanted him to have another year, and to say that was a great experience for me," said Jeff Bobek, Brian's father.
A Big Ten school became interested in Brian, but the coaching staff also wanted him to get "tested out." The family took him to a neurologist, the same one who works with the Chicago Bears. Brian passed with flying colors.
When Iowa State showed interest, the Bobeks knew it was the right fit, even if it was the rival of his parents.
Jeff played football at Iowa and Terri, Brian's mom, played two years of basketball for the Hawkeyes.
Both were wearing the Cardinal and Gold on Saturday night.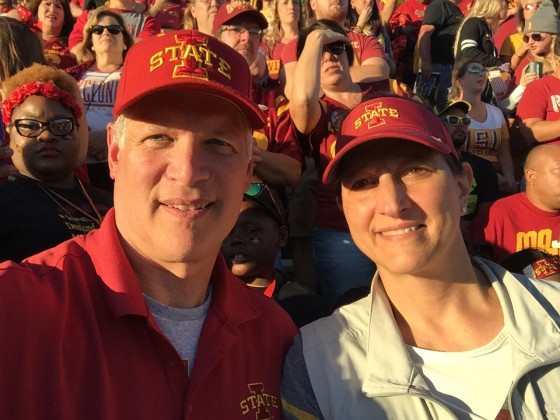 "When it comes to your children," Jeff said, "that precedes anything before. I believe in college football. He's had some misfortune, but he's giving it one more shot. And the Iowa State coaching staff has been great to my son. They value his character and the assets he brings to the team."
The Hawkeye gear has been put in the drawer for now. The Ohio State gear has been given away. There is some Minnesota and Michigan State stuff still left in the closet (the Bobek's other son Jeff played football for Mark Dantonio).
"We believe faith chose Iowa State," Jeff added. "We're Cyclones for now."
"I DON'T TAKE MY HEALTH FOR GRANTED ANYMORE." 
Iowa State's Mitchell Meyers looks at things differently after battling Hodgkin's Lymphoma for 13 months.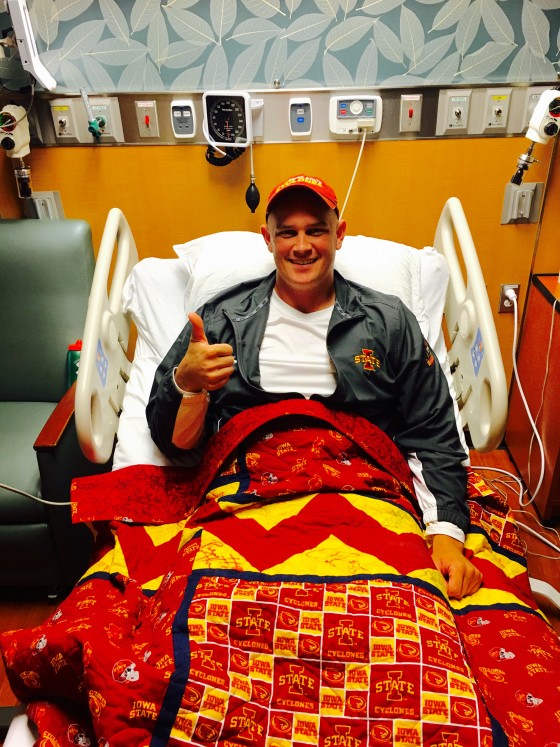 He was in the middle of treatment when Matt Campbell was hired to be the new Iowa State head coach. Campbell's first phone call was to Meyers, who was getting treatment back in his hometown in Texas.
The most intense treatment was a stem cell transplant he got at the beginning of the year, and it put him in the hospital for three weeks. He lost about 20 pounds. He had body sores. He had zero energy.
Meyers finished treatments this past March.  His weight has returned, and the defensive end is back to about 255 now.
He missed all of the 2015 season, and being able to play football again, in games again these last two weeks have been overwhelmingly glorifying.
"I don't take my health for granted anymore," he told me. "I feel lucky. Very, very lucky."