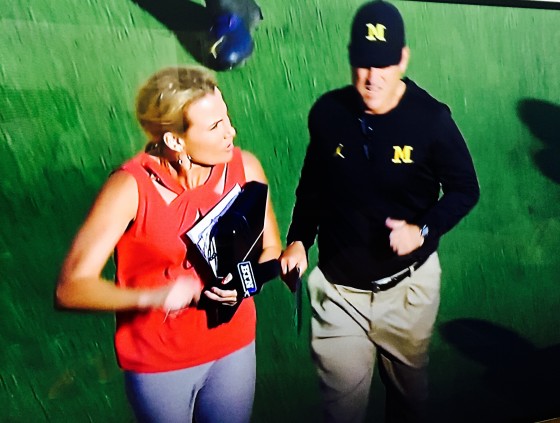 Wear comfortable shoes.
That's a must for a sideline reporter.
And for all the obvious reasons.
First, you're standing for at least a three-hour football game. Your feet, calves and legs will thank you. Secondly, you might have to do your best Usain Bolt and chase a coach down … like I did on Saturday with Jim Harbaugh.
Here's the fun we had with it on the broadcast:
To clarify, there's NO drama here. Harbaugh was NEVER asked for an on-camera interview, and in fact, this video doesn't show our entire interaction. We had been talking the entire walk down the tunnel. I actually had gotten three questions to him off-camera before this.
The reason for the chase down?
I had to get clarification on a question before he got to the other sideline.
That's all. Sorry, no drama here.
But I hope you can appreciate my 40 time.
And the Sorels I chose to wear. 🙂
Brady's Back
Tom Brady smiled, looked up at the stands in the Big House and gave me one word:
"Love."
I asked him what his biggest emotion was being back for the first time for a game at Michigan in some 17 years.
"I just love this place," he said to me at midfield, during the pregame warmups. "This is what Michigan should be. The excellence. The excitement. The energy."
Brady spoke to the team before the game, and was the honorary captain during.
Friday afternoon, he did have a chance to have a little fun with his 9-year-old son "Jack," as evidenced by Brady's Facebook post:
Tom Brady plays catch with son at Michigan Stadium.
I saw Jack on the field in the pregame too. I complimented him on his fade route and solid catch and dab.
Then I asked, "Are you going to be a receiver or a quarterback?"
He looked at me square in the eye …. "I'm going to be a …………………. soccer player!"
I love 9 year olds.
—-
Enjoy this SnapChat (lisabyington11) video I took of Brady in the pregame. He's meeting with the Harbaugh family here.
And Michigan fans, enjoy these postgame interviews as well:
Miracle at Michigan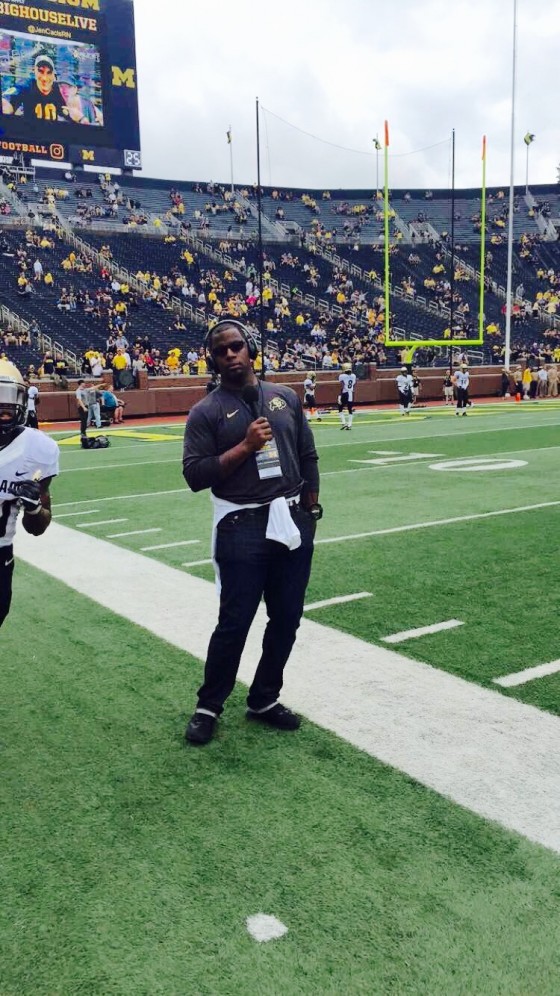 Kordell Stewart was back in the Big House for the first time since his Hail Mary throw in 1994.
Stewart was working the sideline for the Colorado radio broadcast. This year, they are asking alums to work their games, and fittingly, they asked Stewart to work this one.
What was it like to be back?
"I was walking down the tunnel and my heart started pumping like I was playing in the game again," Stewart told me.
But he didn't walk out to the spot where he threw the pass.
"It was grass back then, it's turf now. If it was grass now, I may have walked onto the field and dug my toe in there a little bit," he shrugged his shoulders and broke into a laugh, "I know I caused a lot of people some pain here."
More Colorado Connections
The Harbaughs and MacIntyres go way back.
Matt MacIntyre, the brother of Colorado football coach Mike MacIntyre, played college football for Jack Harbaugh at Western Kentucky in the '90s.
It was during the time that Western Kentucky was contemplating shutting down the football program.
Jack Harbaugh wasn't ready to accept that decision. He went back and had a meeting with his team.
"I took it personally," Harbaugh told me on Friday afternoon in the Michigan football building. "So I asked the players what they thought, and in that meeting, every man in the room said they were on board to try to save the program."
Matt MacIntrye was included in that group.
So the team went on to continue to practice, and Harbaugh said 3-4,000 fans would show up to just a spring practice in support of the team. They would wear hats that said "save football".
It became good enough to sway just enough votes at the end of the month to keep the program.
"But it cost us," Harbaugh said. "We lost two full-time coaches and twelve scholarships, and no one would play us the next year. We only played about six or seven games."
Both Mike and Matt MacIntyre said because of Jack Harbaugh's dedication to the Western Kentucky football program, they feel a special connection to the family.
"That family is credited for saving football at Western Kentucky," Mike MacIntyre said. "We feel indebted to the Harbaugh family for that."
Matt MacIntyre was on the sideline Saturday for the game.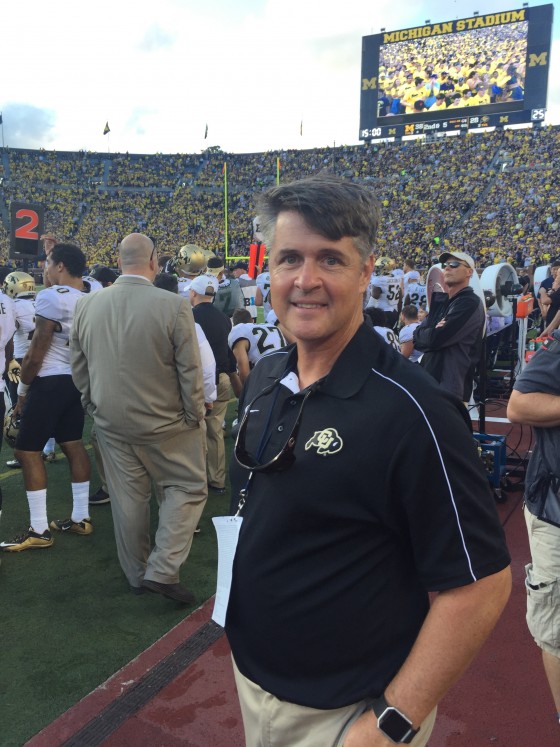 Jack Harbaugh reflected on his time coaching him and the team.
"I don't think Matt called for a 'fair catch' EVER in his career," Jack Harbaugh leaned back and broke into a boisterous laugh. "And me?!?! I had to try to make a difference in some way. I was at the end of my mediocre, nondescript coaching career at the time. I wish I could have been around Jim (Harbaugh), and John (Harbaugh) and Tom Crean (his son-in-law) more during that time, maybe I wouldn't have been such a mediocre coach."