He's boring.
And that's fine with everyone in Madison.
OK, maybe "boring" is the wrong word to describe redshirt freshman quarterback Alex Hornibrook.
Let's try … consistent, even-keeled, and calm.
"He hasn't changed all week," Wisconsin head coach Paul Chryst said to me in the tunnel in the pregame on Saturday. "I really wish I could give you more than that. But he's literally been the same every single week. Even when he's not starting."
Hornibrook was one of the first Badgers on the field.  I watched him warm up on Saturday with a t-shirt, shorts, and earbuds. This was the first time in his college career, he was warming up knowing he would start.
He looked like he had done it forever. (From my SnapChat: lisabyington11)
Teammates, one-by-one, would slowly trickle out to the field from the lockerroom to stretch their legs, and they would casually stroll up and shake his hand. From my perspective, Hornibrook always looked appreciative of the gesture but sometimes surprised. Kinda like, "Thanks … but what's the big deal, really? " sort of reaction.
"I told him to get the job done," said David Moorman after he shook Hornibrook's hand on the field. Moorman is a backup offensive lineman and Hornibrook's roommate on campus. "He's got his own routine. And we're not very exciting. We both pretty much listen to country music all week and watch film on our porch."
And in case you're wondering, Hornibrook listened to George Strait during that warmup.
Hornibrook's performance on Saturday was anything but boring.
Impressive. Accurate. Composed.
You could use all those words.
But it didn't come down to words for Chryst in the moments before the game.
"I told him to enjoy the moment and have fun," the Badger head coach said, then added, "Frankly, if I have to say anything more, we're in trouble!"
Turned out, Wisconsin was just fine.
Here's our postgame:
Bart as the backup 
"Bart (Houston) didn't get fired, as much as Alex earned the right to start," is what Chryst told our crew this week.
I watched Houston act as a backup on the sideline on Saturday. Everything about it seemed selfless. Houston and Chryst did a good job in keeping him involved and active.
Every time the offense came off the field, Houston would eventually go through his own warmup routine. A light jog to keep his legs loose. Throwing back and forth with Hornibrook on the sideline, when it looked like the defense was going to make a stance.
And the head coach was going to make sure Houston was involved in other ways.
"Hey!" Chryst called out to Houston on the sideline, while pointing to the receiving corps. "Are you going to talk to them about spacing?"
Houston immediately walked over and spent some time with the receivers.
He was involved and engaged the entire game.
Credit Wisconsin. Credit Chryst. Credit Houston.
Honoring Sadler 
It was the Sunday after Michigan State beat Notre Dame.
One of the first things Mark Dantonio did after the win was to write an email to about five people at MSU. He was requesting to have the "3" return to the Spartan head at midfield, something the school had done during Mike Sadler's celebration of life ceremony.
Sadler had died in a car accident this summer, and MSU was waiving the 10-year waiting period to induct him into the Spartan Athletics Hall of Fame this past weekend.
"The groundscrew knew him really well," said Amy Fouty, MSU's head athletic turf manager, so bringing back his number "3" was a no-brainer. Fouty said Sadler would workout plenty of times on his own at Spartan Stadium, and was always great to her staff.
It was an emotional weekend for Sadler's family. I spoke to his mother Karen at halftime.
"It's overwhelming how much you realize he impacted people," she said. "He tried to do everything well, whether that was on or off the field."
Sadler Tribute.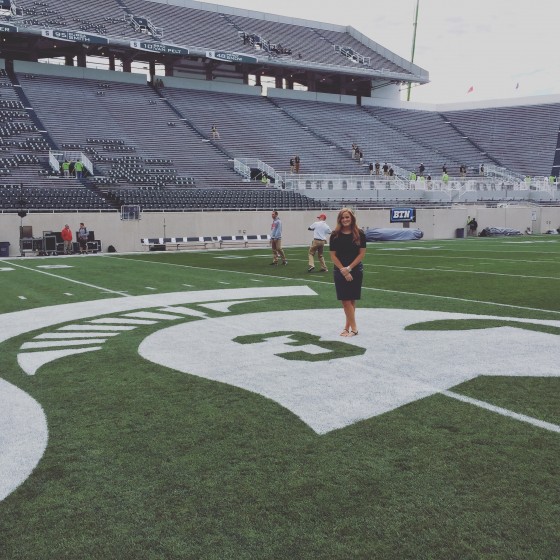 I'm including the Mike Sadler tribute we aired during our Tailgate show and narrated by Michelle McMahon.
Sadler and McMahon were high school friends, stayed close as McMahon walked onto the volleyball team at Michigan, and of course Sadler went to MSU.
If you have a few minutes, I'd encourage you to watch this.
If you don't know much about Michelle's story, know this: She's a hard-worker and she's believable on TV.  The two biggest ways I evaluate someone in this business.
But more importantly, she's not afraid to risk.
Michelle left a good-paying full-time job to pursue her dream of being a broadcaster. And when I say "pursue," I mean she REALLY had no guarantees. She had zero income coming in. She was told "no" a lot. She worked primarily behind-the-scenes at various media outlets.
She had to piece together all kinds of jobs to make it work. Eventually, she was able to compile enough on-camera opportunities to catch the eye of Fox Sports South. She now works as a reporter/host for the Carolina Hurricanes, and she will moonlight for BTN during some of the football season.
Sadler was one of the ones who encouraged her to take the broadcasting leap.
Here's Michelle in her own words:
Who's Endicott? 
With the back injury to Wisconsin kicker Rafael Gaglianone, Badger fans were quickly learning about backup Andrew Endicott.
Endicott was quickly learning about what placekicking meant in meaningful situations.
He had worked on kickoffs in his career in Madison, but hadn't attempted a field goal or extra point in four years.
Quick math … four years would be since his senior year… in high school.
Even then, Endicott only attempted two field goals his senior year.
"I was a safety and wide receiver," he told me. "I hurt my hand my senior year and that's really when I started to focus on kicking."
His longest kick came at 55 in the warmups, and he had hit a couple others in the 50's.
But in the first half, Wisconsin went for 4th down a couple of times, instead of turning to Endicott's leg. And the senior missed an extra point in the first half.
Chryst told me at halftime his comfort level with Endicott was 25 yards and in. But apparently, that didn't translate to when he would give him a shot.
It came on a 41-yard attempt in the third quarter.
Endicott hit it.
And it was a much needed confidence boost.
"I'm not going to lie I have butterflies," he told me before the game. "I can't wait to get that first field goal under my belt."
Still protecting 
—————
Wisconsin's Dan Voltz would most likely be a starter on the Badgers offensive line this year. He had started at center the last three years, but was probably going to move to left guard for this season.
But instead of a uniform on Saturday, he was on the sideline wearing a white Badger polo shirt, coaching up the offensive linemen.
Voltz suffered an ACL tear toward the end of last year's Big Ten season. It was one of a string of injuries in his career. He decided in August to retire early.
He's still active without being "active." During the week, he'll work with the players in the weight room. On gameday, he was in the lockerroom helping the athletic training staff get the players ready in the pregame. During the game, he's connected to the coaches in the pressbox with a headset. Clipboard in hand, he's writing notes after each play, and he'll help offensive coordinator Joe Rudolph with suggestions the second the linemen come off the field. He'll then sometimes sit with the centers and give them technique suggestions.
"It has been really great for him," Rudolph said.