The scoreboard said Ohio State was leading 58-0.
During a timeout, Urban Meyer stood on the field with his quarterback, J.T. Barrett. The two looked around and laughed and then exchanged a handshake.
"He was telling me….look around, J.T.," Barrett said. "Isn't this great? The atmosphere? It's homecoming…"
I looked at Barrett and said, "Really?"
"Oh yeah," Barrett laughed. "Coach really gets into that kind of stuff."
Urban Meyer really got into how his quarterback performed on Saturday. And Meyer didn't focus on Barrett setting the school record for career touchdown passes against Rutgers. Instead, he was wowed with the way his quarterback ran the two-minute drill toward the end of the first half.
"That's a grown man handling that," Meyer told me at halftime.
He later expanded after the game, "I thought that was damn near perfection. He did very well managing the ball, getting the ball down, getting guys set. I expect that out of him and I glad we got that to work."
Earle Bruce dots the "i" …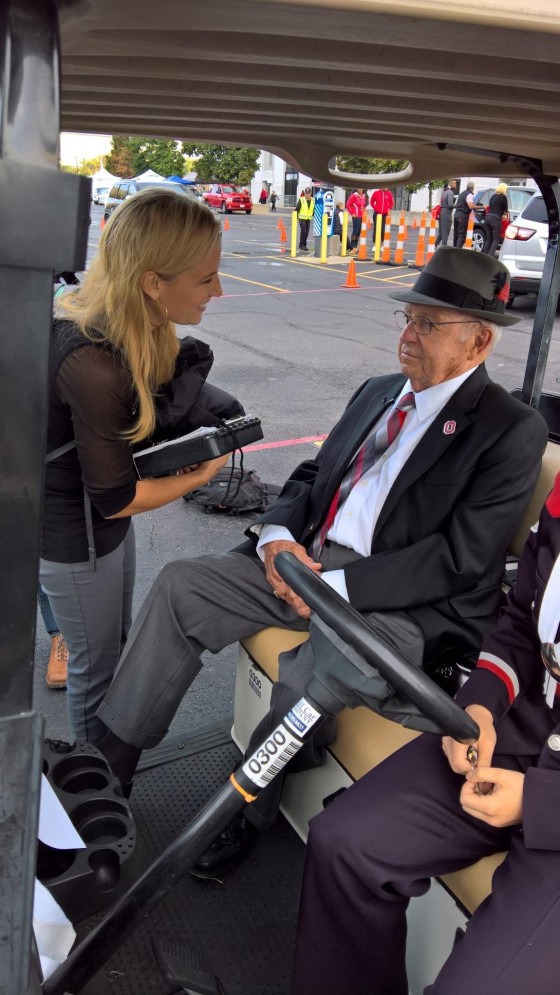 Yes, he wore the fedora.
It was one of the biggest questions Ohio State fans had about Earle Bruce for Saturday.
The former Buckeye head coach got the chance to dot the "i", but it was the current Buckeye head coach whose face beamed when he talked about it.
"The one thing that hasn't passed him by is his spirit," Meyer said.
The two recently had dinner together, and they try to maintain a connection as closely as they can.
Their connection will always be tight when it comes to football. Bruce hired Meyer as a graduate assistant at Ohio State, and then later made a plea to the school which would eventually start a national championship coaching career.
"I told Bowling Green… you have to hire that man!" Bruce said to me, while sitting in a golf cart and taking pictures with Buckeye fans.  "I said, this is one of the best coaches in the country, it's just that no one knows about it yet."
———————–
Enjoy these oldie but goodie photos we showed during the broadcast of Meyer and Bruce. The first goes back to their time at Colorado State. The second is with Meyer, Bruce and their wives.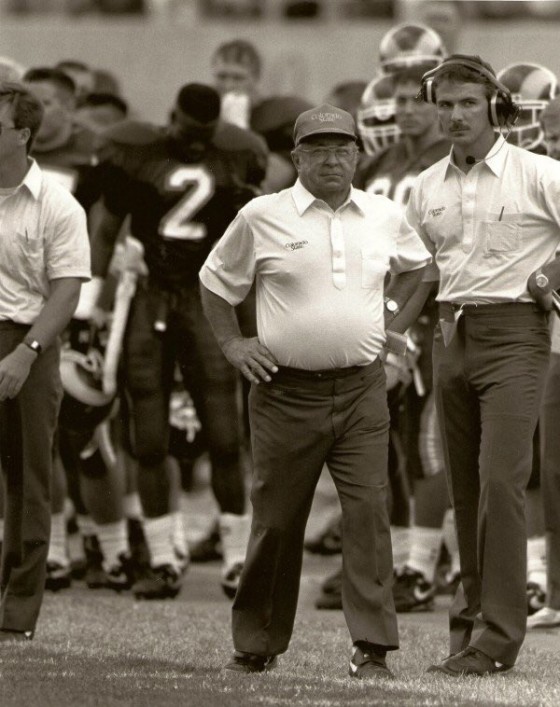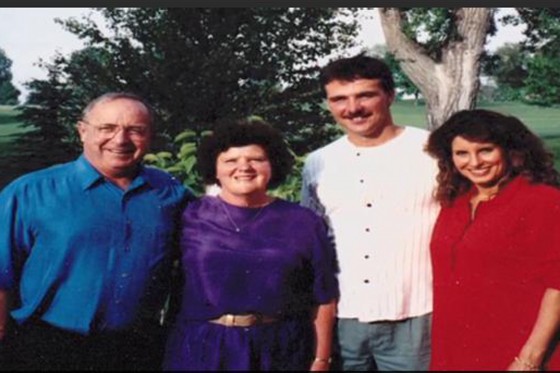 Ash returns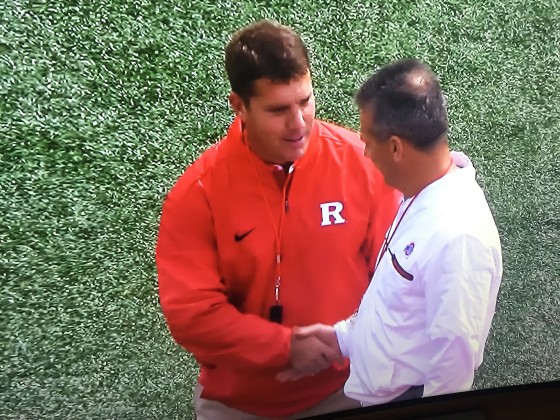 All week, Chris Ash had tried to downplay his return to Ohio State.
Two years as the co-defensive coordinator, which included a national championship, and Ash still didn't want to think about the impact on him, but instead how his players would perform against the second-ranked team in the country.
But walking onto the field changed things.
"It feels different," he told me in the pregame, just moments after having a quick chat with Urban Meyer. "I can't help but to think of everything we accomplished here under Coach Meyer."
And how was that handshake with the former boss?
"It was ok," Ash laughed. "I have to get used to that too."
Familiarity breeds changes … 
Including Ash, there were eight Rutgers coaches and support staff members who had ties to Ohio State.
Needless to say, the Scarlet Knights program knows the Buckeye program very well … everything from creating a championship culture to offensive and defensive play calls.
Chris Ash had paid particular attention to the television broadcasts of the Buckeye games leading up to this past week, and he noticed a change from week one. "They've definitely already changed their signals," Ash told our crew. "And that's smart. They can't do the same thing."
Meyer said his staff began changing things on the defensive side of the ball back in late spring. They revisited again in August. And it was the offense, which totally changed things for this week. In fact, for the first time this year, Ohio State showed placards on the sideline.
One of them showcased our own Matt Millen, prominently sharing the spotlight with Tony the Tiger.
I was told on the sideline that the offensive interns made these placards, and that jokingly "We don't call the Millen play much."  🙂