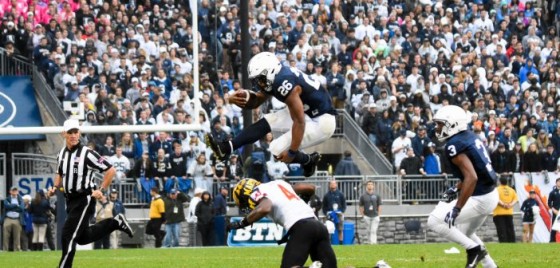 Photo Courtesy: onwardstate.com
Saquon Barkley studied Will Likely on film.
He knew exactly the best way to beat one of the best corners: jump over him.
"First of all, Will Likely is a hell of a player," Barkley said to me in the postgame. "I've been watching film on him, I knew he liked to go low, when he shoots up like that, so I kinda had in my head that I was going up…but I still gotta finish…still gotta score a touchdown there."
After a career-high in carries and rushing yards, and being a part of the best PSU run output in a decade, there's always room for improvement, I suppose.
O-line development
Part of the increased running success had to do with some improved play by the PSU offensive line.
Matt Limegrover is the Nittany Lions' new position coach, and he's the only one on the PSU staff that has a singular job title: offensive line.
After coming off a job at Minnesota being the offensive coordinator and line coach, the simpler life is working for him.
"Everything I do throughout the day is for the o-line," Limegrover told me in the tunnel in the pregame. "My time doesn't get divided. And they've stretched me."
When Limegrover came in, his new players, a group that has been ridiculed often, simply looked back at their new coach and asked him, "What are you going to do for us?"
The message was simple, just like his job title. "I don't have a quick fix, I don't have a magic wand," he told them. "But we do have to figure out an identity"
Limegrover gave them 50 descriptive words to choose from.
"Choose ten," he told them.
They did.
"Now pick three," he said.
They did:
1. Hard work
2. Trust
3. Attitude
It's the three words this offensive line is now building on for this year. And the group has something to remind themselves of what they are about.
"It's important that it's not something I picked," Limegrover said. "It's organic because they chose it."
Perry Hills returns to Pennsylvania 
The last thing Lori Hills texted Maryland quarterback Perry Hills before the game: "Be a warrior."
At the time, she didn't know how prophetic that advice would be.
It was Hills first time playing, let alone starting, at Beaver Stadium.
He was injured on a hit late in the second quarter, and it was a reason he would never return to the game. I watched from the sideline as he talked to athletic trainers, and at one point walked up to head coach DJ Durkin to ask to return. Durkin merely looked at his fifth-year senior quarterback and shook his head "no."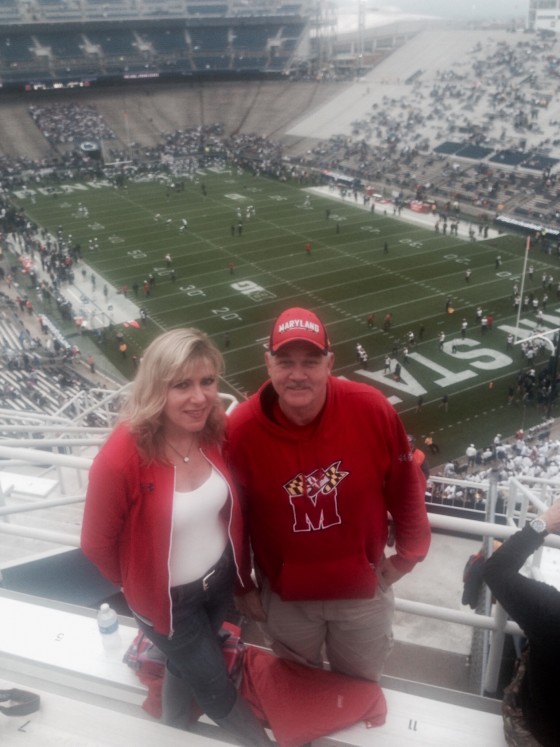 Perry Hills parents at the game: Dad, Perry and mother, Lori  
So it was a bittersweet return for the dozen of family and friends of Perry Hills, who made the 2-hour trek from the Pittsburgh area.
"It's more of a home game for us than a game at Maryland," Lori said. "I haven't missed a game since he was six years old."
Hills is known for his toughness.
"Everyone knows he was a (state champion) wrestler, but they forget he was also a middle linebacker," his mother said over the phone. "So he has a wrestling and linebacker mentality. In fact, one of his favorite plays was getting to the quarterback."
He loved making the hit and he could take one.
If Perry Hills could have returned Saturday, he would have.
Pizza Pizza …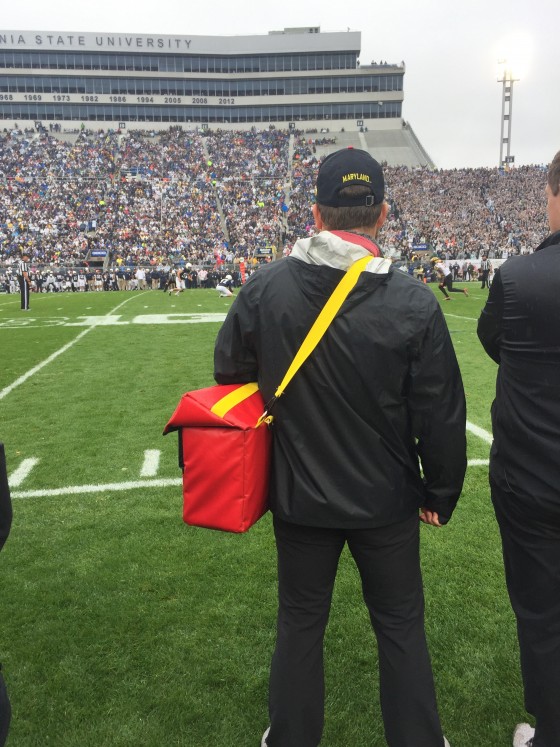 "We call it the pizza box," said one of the PSU managers to me. "Because it really looks like we're about to deliver pizzas.
They are the football carriers both Maryland and Penn State used on Saturday to keep their footballs dry in the rainy weather. Schools order them in particular for weather days like the one on Saturday. There isn't a drying device inside … yet. Maybe that's coming in the future, but these carriers can hold about three footballs at a time.  Each team had two managers on either sideline, and would rotate a dry football in and out of the game every time a play would end out of bounds.
And by the way, both schools submitted about 16-18 footballs for a pregame check to officials. On a sunny and dry day, the normal would be about 12.
I scream, You scream…
Are you looking for a recommendation to Penn State's Creamery? I'm here for you.
I'm a chocolate lover, so I always go with "Death by Chocolate." And yes, if I die from it, I'm totally OK with that.
Kevin Kugler tried the Monster Mash. It's a blend between vanilla ice cream, Oreo cookies and caramel swirl. And though I love chocolate, I have to say this mix was really good. Maybe better than DBC. But you can only get the "Mash" in October. So hurry.
And I HATE admitting Kugler ordered better than me.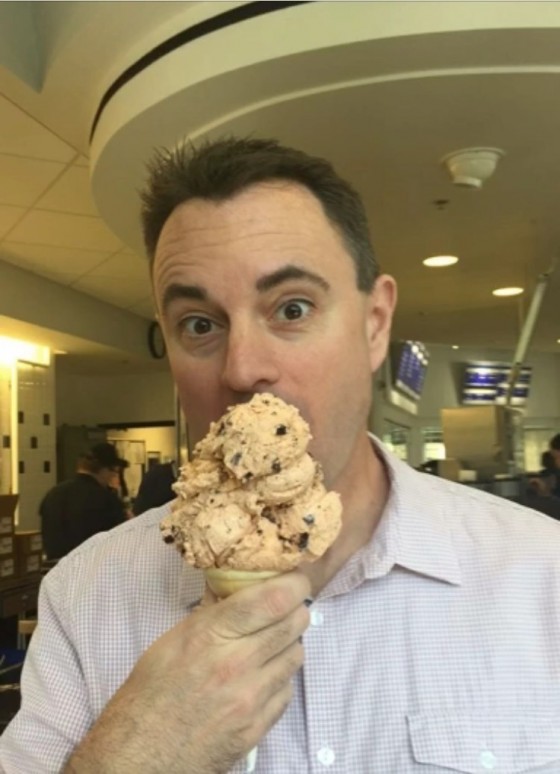 But I took the better photo.  🙂