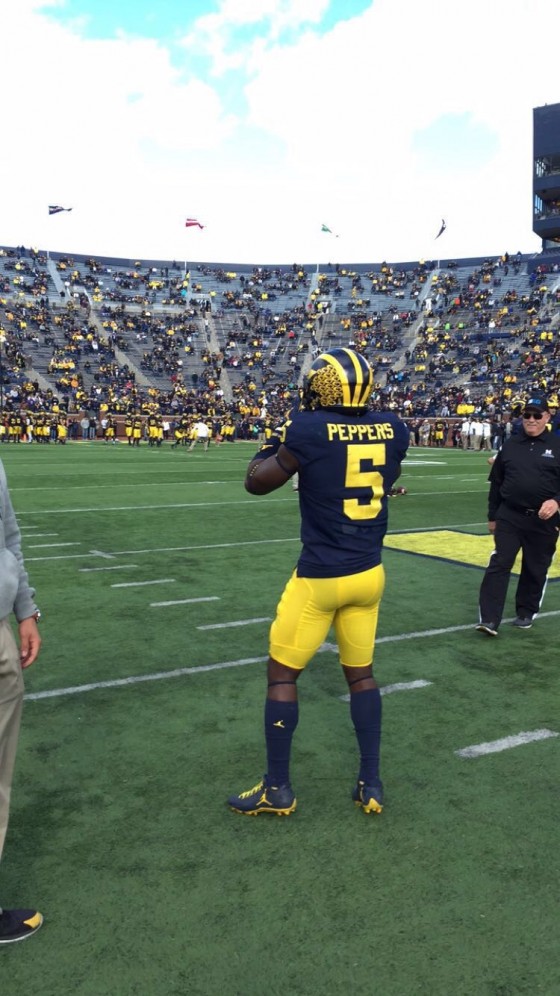 "65."
That's the yardage Jabrill Peppers said to me, and without hesitation, when I asked him how far he can throw the football.
Wilton Speight might not disagree. On Friday afternoon, Speight told our crew about Peppers in practice from this past week.
"He fielded a punt, and without even trying, just takes one step and throws it back like 55 yards," Speight said shaking his head in disbelief.
If you watch Peppers in the pregame, he might treat you to such antics. He'll also try to catch and hold as many footballs off the jugs machine as he can. He consistently gets four. His record is five. His goal is seven.
Seven?
Peppers laughs. "I forget which NFL player it is, but he can hold seven. But I watched him and he puts a couple of footballs between his legs, so I'm not sure I count that."
Peppers has only attempted one pass in his college career, but more might be coming.
"He's got a very accurate arm," Offensive Coordinator Tim Drevno said. "Very accurate."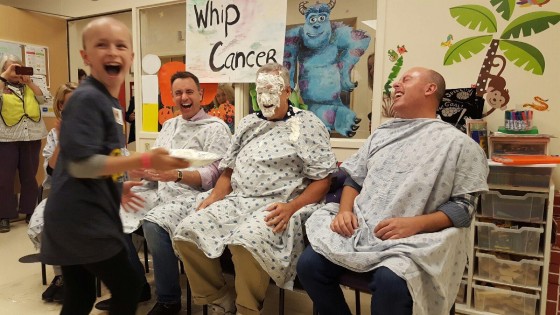 #WhipCancer 
Little Vara, a patient at C.S. Mott Children's Hospital, had a chance to do something many in the state of Michigan wish they could:
Hit Matt Millen in the face with whipped cream.
"Make sure you say, 'This is for all the Lions fans out there,'" Millen joked to Vara before she smothered him.
Vara looked around the room, only to be quickly encouraged by some of the adults.
She got him good. Not once, but twice. And Matt was a great sport about it.
Watch it here: #WhipCancer on BTN Crew
it was all for fun and for a good cause.
Similar to the "ice bucket challenge" to raise awareness/funds for ALS, the  #WhipCancer campaign helped to raise $30,000 in a 12-hour span on Friday. The hashtag is a social media movement, coinciding with the national trend in the month of October to bring awareness to all kinds of cancers. The University of Michigan Comprehensive Cancer Center, C.S. Mott Children's Hospital, and WTKA (an Ann Arbor sports talk station) spearheaded the first day of #WhipCancer on Friday.
The hope is to carry this through the holidays.
In fact, Meritor, a company headquartered in Troy, MI is adding $1,000 for every touchdown scored vs Illinois this past Saturday (five), AND for every touchdown scored against Michigan State next week.
Here's a link to learn more:
#WhipCancer challenge info.
World Series Winners? 
You'll frequently see Jack Harbaugh around the Michigan football offices, especially on a Friday during a home weekend.
Matt Millen spotted him in the lobby and shouted, "How about those Indians?" (Jack Harbaugh has grown up as a lifelong Indians fan.) The elder Harbaugh couldn't stop smiling, but admitted his uneasiness in facing the Cubs.
He then told a story of when he took John and Jim to an Indians game at a really young age. It was a game that wasn't well-attended, and Jack gave his sons a "test of athleticism:" Get a foul ball in this stadium.
"All they had to do was run….there were entire sections empty," Jack joked.
The two boys did. And they each got a foul ball to show for it all.
But back to the World Series showdown….
…..who would Jim be rooting for in the series?
"I grew up half my life as an Indians fan," he told us. "And half my life as a Cubs fan…I even threw out the first pitch this year…"
He trailed off …
Any Detroit Tigers in you?
"There's some there too," he said with a smile.
His dad added with a chuckle, "Jim can be……'flexible' when it comes to the teams he roots for."
Jack on Jim
Jack just beams, especially when talking about his family, and the opportunity for his son to coach Michigan.
"There are so many memories for me here," he said. "When Jim was introduced as the head coach, and I walked into the press conference room and saw everyone in there. I didn't see faces, I saw stories. From Lloyd Carr to equipment manager John Falk."
Then he added, "But here's the coolest thing. I want to be in the Hall of Fame."
He paused, and let me think about that.
Then he grinned from ear-to-ear.
"And that's the GRANDFATHER Hall of Fame," he said while chuckling.
Grandpa lives in the same neighborhood as his grandchildren. "So I get to work my way into doing that everyday while they live here."
As for helping out with his son's team?
"I just try to stay the heck out of the way!" Jack says with a belly laugh.
"The Future". 
Our TV crew sat with Taco Charlton on Friday, and the senior defensive end didn't hesitate when Kevin Kugler asked him to describe freshman end Rashan Gary:
"The Future."
The freshman has impressed just about everyone, and seems to be making all the right moves on and off the field.
"Rashan Gary will look back at his freshman year," defensive line coach Greg Mattison said to me, "and he'll realize the best thing he did was to watch and study (redshirt senior defensive end) Chris Wormley."
The freshman has used the senior as his mentor this year.
And Mattison knows it's that kind of tutelage, mixed with some talent and consistency, which has helped this defensive line shape a very stingy Michigan defense.
"We've had consistency. The seniors played when they were underclassmen, and I have been fortunate to have been with them all the way," Mattison said.
"They just want to be special."