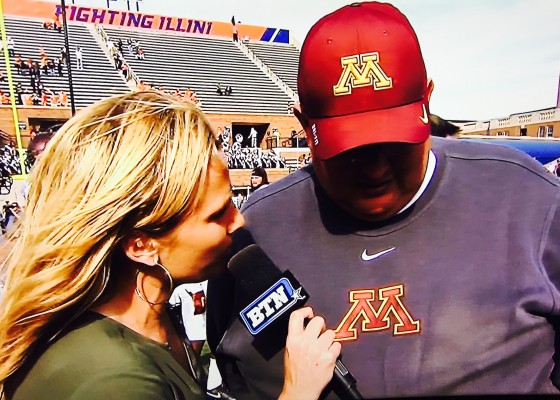 "Let's be relevant in November" was the message Minnesota head coach Tracy Claeys told his team this week.
The Gophers became bowl-eligible for the fifth-straight year with a win against Illinois on Saturday. It's an impressive consistency for a program that is now building off the Jerry Kill-laid foundation, but also trying to establish a new identity.
Running back Rodney Smith talks about the recent legacy left by former players and the responsibility to keep it moving forward.
You can find his comments, as well as our postgame combo interview with his teammate and fellow running back Shannon Brooks after these highlights.
Quarterback with a "Linebacker Mentality"
"He's like a linebacker" is how the Minnesota coaching staff describes Mitch Leidner. The fifth-year senior likes contact, doesn't mind contact, but needs to decide when to take contact.
He missed the Maryland game recovering from a concussion after a hard hit he took against Iowa. It was a scramble and a run versus the Hawkeyes, but some on the Gopher coaching staff didn't believe it was a necessary one.
So even as a fifth-year senior, he is still learning when to run and when not to.
On 3rd-and-2 at the start of the 4th quarter, Leidner made the proper read to put Minnesota up 28-14. It was the right call on the decision to keep it and run. It was a defining drive for the Gophers in the game: a 12-play, 70-yard march where they converted on four 3rd downs.
How do you pass the time? 
Minnesota's redshirt senior linebacker Jack Lynn was chomping at the bit to play back in his homestate for the last time.
But he had to wait a half to do it.
Lynn sat out the first half versus Illinois because of a targeting penalty from a week before.
This was a tough half to miss, Lynn is from Lake Zurich, a suburb of Chicago, and he had about 50 family members and friends in attendance to watch.
So he waited a half, and had to pass the time somehow.
There isn't a television in the Illini visitor's lockerroom, so Lynn did the best any good student-athlete would do: he read a book for the first half.
Seriously. 🙂
Illini QB shuffle
Illinois had one scholarship quarterback available in its first three choices on Saturday.
Redshirt freshman Jeff George got his second consecutive start. Cam Miller and Trenard Davis were the backups. Wes Lunt was available as a 4th quarterback only, and is probably a week away from competing again.
The big news for Illinois is that Chayce Crouch is done for the year. He had shoulder surgery this past week by Dr. James Andrews in Birmingham.
Senior to Junior
Manage your emotions and the game was the advice from father to son.
"I've learned a lot about my dad's passion for football" (this year) Jeff George, Jr. said about his father and former Illini quarterback.
Junior had about 15-20 family and friends on Saturday, much like his first start at Michigan the week before, where his dad sat and watched from the Michigan Stadium stands.
"I have never felt this way in my life," he said to me last week in Ann Arbor while laughing. "Managing your emotions as a parent are nothing like as a player."
The father-son bond is strong.
"He texts me everyday," junior told me. "He texted me this morning on gameday and said 'Good luck, we will all be cheering and supporting you today.'"
Butkus Back…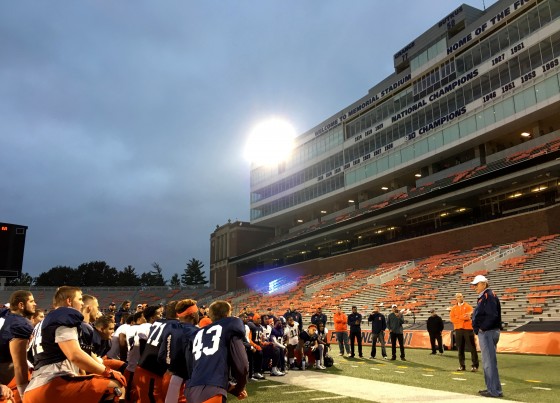 Illinois offensive coordinator Garrick McGee looked like a 7-year-old.
"I'm a bit of a football historian," he told our football crew, so seeing Dick Butkus at practice even had me in a little bit of awe."
The former Illini all-american is the first inductee to the Illinois Athletics Sports Hall of Fame.
He had a chance to speak to the team at practice on Thursday, including taking a picture with the current linebackers.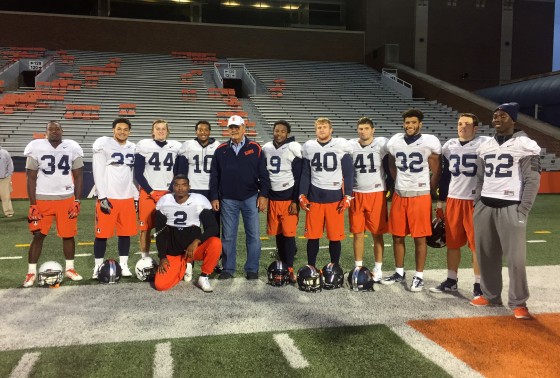 "That was kind of special to see," Illini head coach Lovie Smith admitted when talking about seeing the former linebacker take a moment with the current linebacking corps.
Our in-game interview with Butkus is here.