We all think we know Matt Millen.
I know I did.
He was always that tough-guy, loud-mouth linebacker, who won a bunch of Super Bowls, did some TV stuff, and then couldn't do much of anything as a GM for my home NFL team, the Detroit Lions.
Yeah, that was Matt Millen.
————————————————————
UPDATED: here is the full Matt Millen feature that ran on Big Ten Network and Fox:

————————————————————
I knew who he was. And I knew I wouldn't like him.
Funny how wrong I was.
This is my fourth year working with Matt on the same football crew at BTN.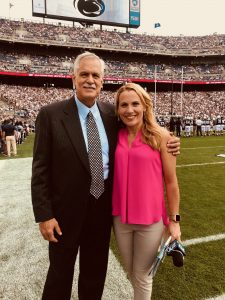 He's a lot funnier than I anticipated. And very self-deprecating. He'll listen to classical music when he's breaking down film. Even more so when he's working in his woodshop. He drinks so infrequently that he doesn't know the names of many beers or wines, so it's always, "I'll just have what he's having, or she's drinking…" He wears Timberlands wherever he goes, and chooses overalls all day, every day – that is, until his wife, Patricia, lays out his suit for TV.
His 200-acre property is setup just the way he likes it. The house they live in was built in 1775, and was about to be demolished. But several decades later of Millen-made improvements and additions, and the house is now a beautiful home. He spends hours in his woodshop, making anything you could possibly imagine: a table, chest, bed frames, wooden floors, chairs.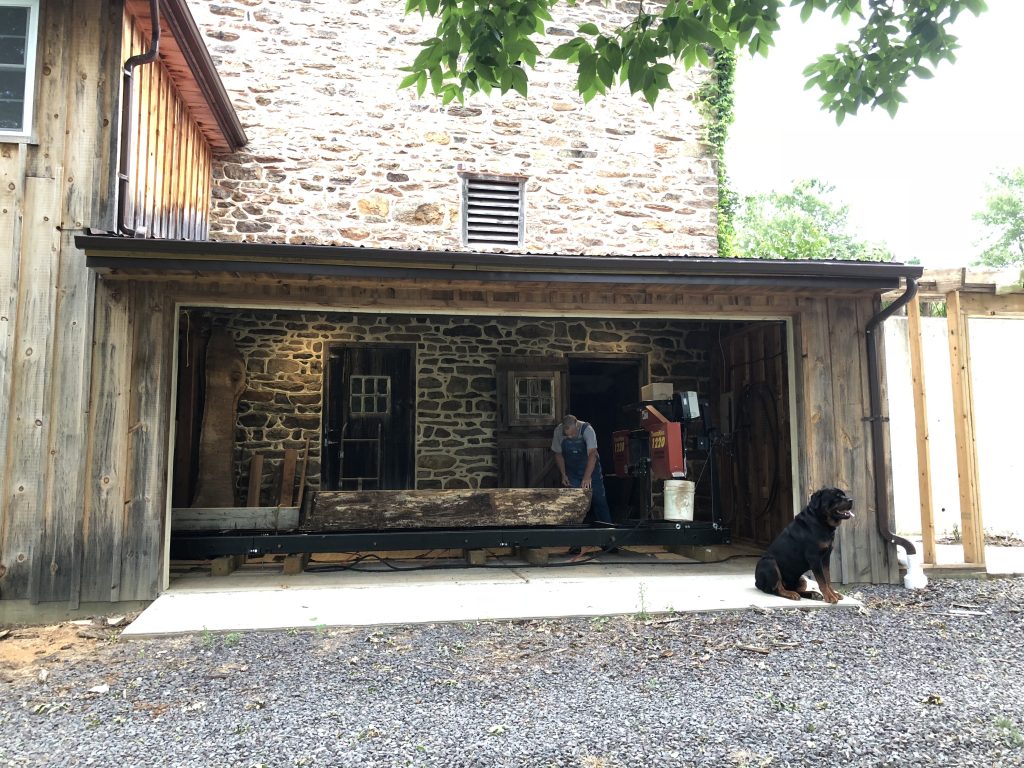 Matt will work alone mostly, with nothing but his classical music setting the stage. His consistent company are his two Rottweilers, Ranger and Bench, with the occasional appearance from two of the anti-Rottweilers, a couple of maltipoos, named Max and Clancy. It's Max who always seems to get the brunt of Matt's humor.
"Max!" Matt exclaims to the tiny little white dog, who is trying to keep up with Matt's big strides by hopping along behind him as they enter his shed. "You look just like a dog…..only smaller."
Matt has always been good for a one-liner.
"I gave myself zero percent chance of me liking you," I told him a couple years ago.
He laughed. "Well, Lis! At least you kept an open mind about it!"
I'll be honest with you. When I first got the phone call by my boss at BTN, Mark Hulsey, to report on this story, I got emotional.
Matt has become family.
And this piece is so critical in so many ways.
Matt is dying from amyloidosis. And it's important for people to understand exactly what that means.
Amyloidosis is a hard disease to pronounce, to understand, and even harder, to diagnose. As Matt says, "In many cases, it goes undetected." In his case, for him, it took six years.
So it's important for people to recognize its symptoms and understand what it is.
Amyloidosis is a disease where the body, and in Matt's case, his bone marrow starts producing abnormal proteins, called amyloids. These proteins deposit in your organs, such as the heart, liver, or kidney. Eventually, enough amyloids shutdown the organ. As with anything, the quicker the diagnosis, the better your chance to live longer will be.
But right now, there is no cure for amyloidosis.
For Matt, the amyloids have attacked his heart. It's operating at 30% capacity right now, and he needs a heart transplant because of it.
"My 30% is better than your 90%," Matt proclaimed to the doctor, when he first learned the news. For most people, I would raise an eyebrow with that assessment. With Matt, I just pause, think about it, and nod my head.
In this piece, Matt will tell the story of his search for a doctor from Philadelphia to Chicago to Los Angeles to New York, in hopes of finding anyone who had an answer. He finally found it in Jacksonville, Florida at the Mayo Clinic.
I remember one Saturday morning during football season, and we were working out next to each other at our hotel.  He stopped suddenly on the treadmill, and he grabbed his stomach.
"Lis, something just isn't right, I just don't know what it is."
Kevin Kugler would nudge me several times while we were on the road, and point at Matt during group dinners, or film breakdown sessions …. Matt had fallen into a deep sleep. The disease was taking so much out of him.
It was those moments of weakness…. where I saw his strength. And I'm not talking about the bulldozer, knock the running back flat on his back kind of strength. I'm talking about strength through vulnerability.
The kind of vulnerability where Kevin, Matt, and I would be walking to the stadium from our car, and he would have to stop, hunch over, and breathe. Some days he couldn't walk ten yards without pausing to collect himself.
My breath was always taken away by watching him try to collect his. There Matt Millen would be, hunched over, his hands on his knees. "This is a four-time Super Bowl champion," I would think to myself. "And this disease is bringing him to his knees."
There's a moment in this piece where you will see that. And I think it's important to show. Though Amyloidosis is not well-known, it's powerful. And you will see how it can arm wrestle against one of the strongest and more stubborn football players who ever lived.
Matt sat with our feature crew at his kitchen table, and thumbed through his phone. Texts, upon messages, upon calls from people who have reached out to him for encouragement. A number of them are from people who also suffer from the disease. Matt takes every call and reads every letter. A lot of the others are a "Who's Who of football": John Madden, John Elway, Joe Gibbs, Roger Goodell, Bill Parcells, Jack Ham, Dan Fouts, Howie Long, Herschel Walker, Bill O'Brien, as well as several other college head coaches.
"It's humbling," he said, the only real time you might hear some broken emotion in his voice. "I'm just a schmuck from Hokendauqua, Pennsylvania. That kind of stuff doesn't happen to guys like me, but it did."
From the unknown pain, to the chemo treatments, to continuing to live his life with the love of his faith and family, we hope to show you how Matt chooses to fight.
That choice is to LIVE while he fights.
"I think you need a good, strong, female heart," I said to him laughing during the interview.
Matt paused. And I knew something good was coming next. "Yeah, but I wouldn't want you to die for that, Lis!"
We all write different chapters to our lives. Matt's book probably has more high's and low's than most. And he will own all of it. Yes, even 0-16.
But it's this latest chapter where he could possibly have the greatest impact. Matt is trying to bring awareness to a little-known, deathly disease. And in doing so, he is an example of how to fight against an opponent where there is no game plan to beat it right now.
Matt will be the first to tell you that a person is measured by how they live their life. Not how they prepare to die.
It's the part of Matt Millen I didn't know much about, many years ago. It's what I understand about him now.
It's also the side of Matt Millen we hope you will see as well.