The moment felt so alive to me, it seems like just yesterday.
The year was 1987. Indiana's Keith Smart just hit a shot we all dream about while in our driveways, trying to win our own national championship.
Shortly after the trophy ceremony, and as the broadcast crew was signing off the air, the song started playing.
…The ball is tipped …
When I heard those words, it played to my own heart strings. During that same year, the basketball world heard "One Shining Moment" for the first time.

I was so touched by that song that I was determined to make myself a copy. I wanted to be able to listen to it again and again and again, and I had to find a way to record it somehow.
Luckily, I taped the game on my parent's VHS machine. (Some of you will need to "google" VHS machine.) I ran to get my cassette tape recorder (google), plugged in a microphone, and rewound the game to the start of the song. Ten-year-old Lisa was then on my hands and knees, sitting in front of the TV, hitting record on my tape machine, play on the VHS player, holding out the microphone to the tube TV speakers (google, google) and then boom! Success! I had a cassette tape copy of "One Shining Moment."
The next few days and weeks, I would take my walkman (yup, google) and play that song over and over and over again. I would be in my driveway while shooting hoops, I would sit in the backseat of the car with my headphones on, sometimes I would be in my bedroom reenacting my OWN Keith Smart championship winner.
In the similar scrappy way I played sports, I've approached broadcasting with the same mindset. You work hard, you don't count the hours, you have a passion for your craft, and you build your path that way. I was grateful for getting my start in TV in the second-smallest media market in the country, at WBKB in Alpena, Michigan. I enjoyed my decade-long adventure working in local news at WLNS, in a college town like Lansing, Michigan. And I am appreciative of the regional and national TV opportunities, which have eventually followed.
My life after a few decades from hearing that song for the first time has changed. But one thing has not.
David Barrett's "One Shining Moment," and whomever has sung it, has been a soundtrack for me and everything I believe in. Call me a cheeseball or a sentimental softie – that's ok. I can laugh and take it. But for me, the lyrics conveyed the lessons of hard work, how to take advantage of your opportunities, and the importance of learning and growing from times of adversity.
The first time in 2017, when I learned I would work the NCAA Men's Tournament as a sideline reporter, I was up in Evanston working a game at Northwestern. Later that night, I drove back downtown with the windows rolled down, and I blared "One Shining Moment" throughout the speakers in my car. It was February in Chicago, in the dead of winter – and I did not care.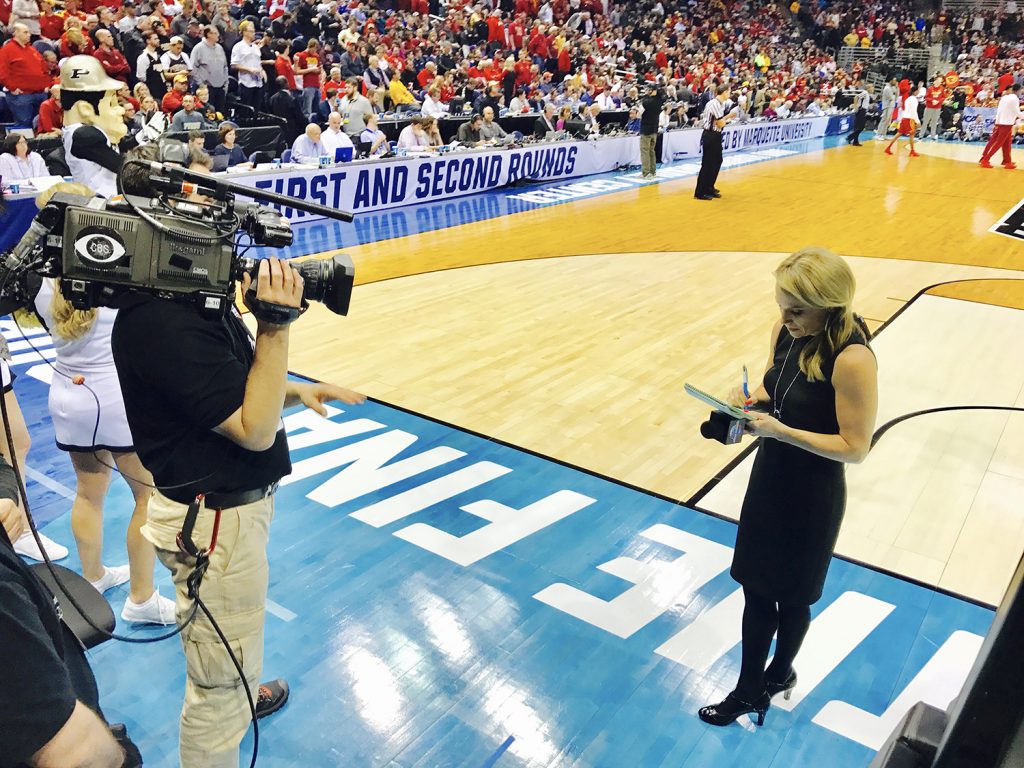 Five years later, when I was asked to be a play-by-play for this year's Tournament, I went back and watched that 1987 video. It all was coming full-circle for me.
Though the evolution of my copies of the song have gone from cassette tape, to CD, to a simple download on my devices, the spirit of how it hit me that first night will never change.
You dream big. You work hard. You let the results come as they may … but if you do those first two things, chances are you won't have any regrets.
I am humbled, honored and so grateful for this opportunity. The NCAA Tournament has always been my favorite event. To me, it's the equivalent of getting to do your own Super Bowl.
And yes, I understand the history piece of this.
I am so thankful for the trust from Turner Sports and CBS. I feel blessed to be working alongside Steve Smith for this assignment, he's been a good friend and a true pro throughout the years. Having said that, I am sure I am not unlike some of the other female play-by-play announcers in this business, who have experienced their own "first-of's" moments and with whom I have been directly influenced by….the ones like Gayle Sierens, Pam Ward, Beth Mowins, Tiffany Greene, Kate Scott, Meghan McPeak, Jenn Hildreth, Courtney Lyle, and Angel Gray… as well as so many more I haven't listed, who have lived and breathed these kind of situations.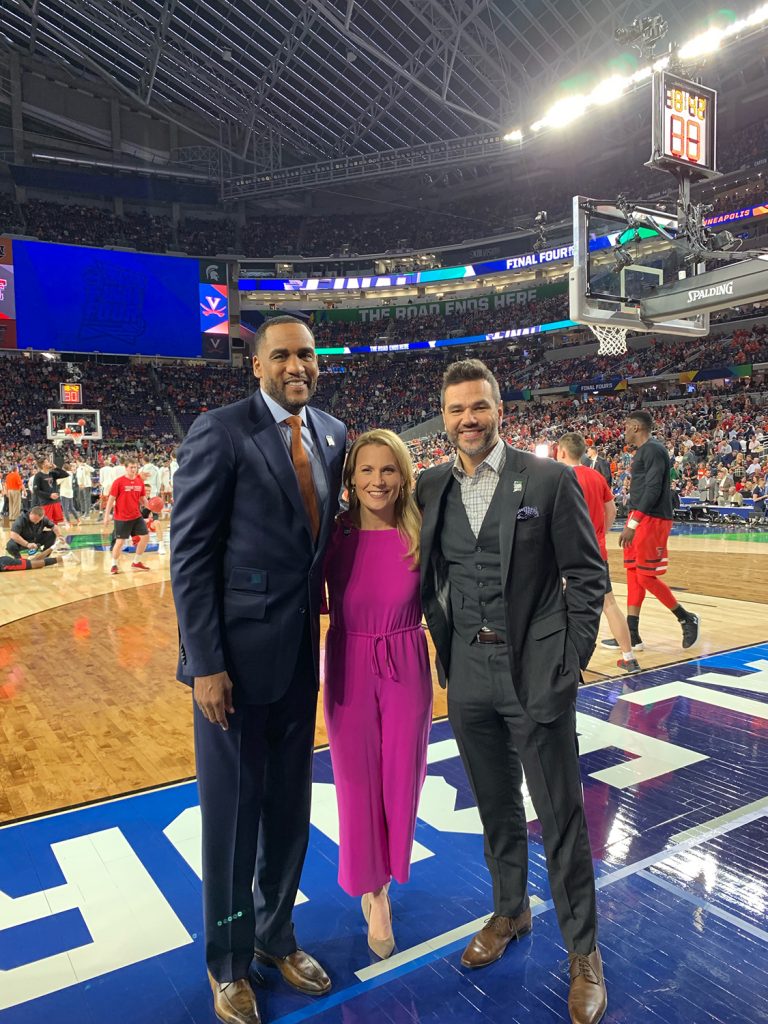 It is time for these opportunities to become the norm.
I call it: to "normalize the marginalized."
My dream is this: for little girls and little boys to wake up one day as adults, and have a female voice on a "men's" game be background noise. I know that sounds odd… to desire to be "background noise." But think about this, and how many games you have had "on in the background," and you never thought twice about who the announcers were. That doesn't happen in today's world, when a woman is calling a football game or a men's basketball game. And I include myself in that group, whenever I hear a female's voice, I am trying to figure out who it is.
As I put on the headset for the first time, as a play-by-play announcer of the NCAA Tournament I grew up watching, I won't be alone.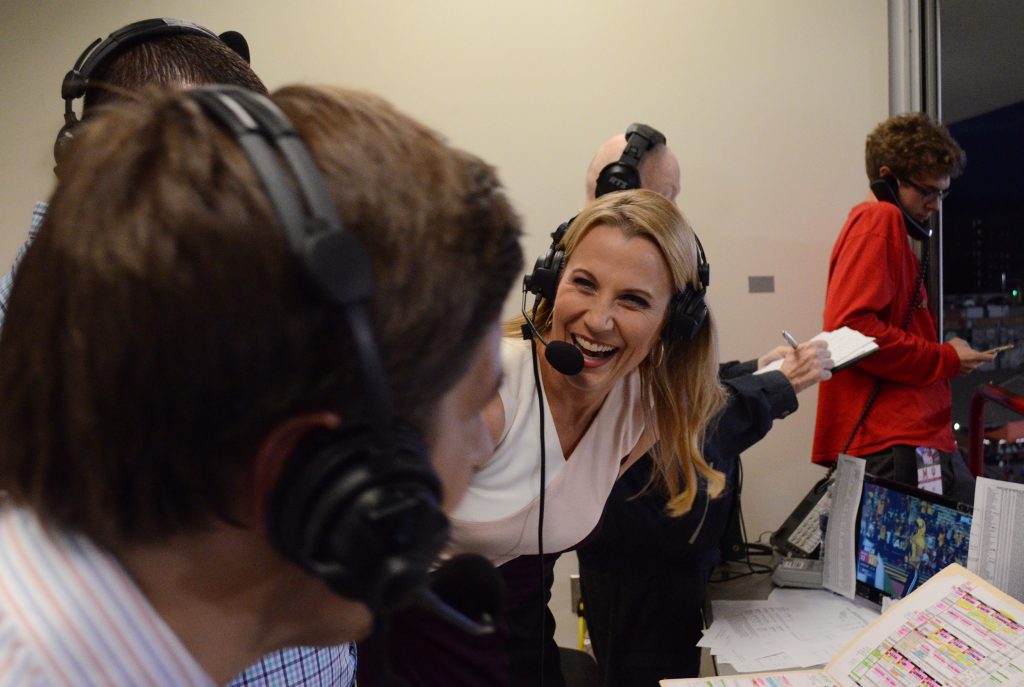 My family, my close friends, and mentors will be there with me. The brave women (past and present), who aren't afraid of glass ceilings anywhere, they will surround me. The men who stand up, believe, and serve as gender allies. They are very much a part of this story too.
Finally, I'll take a moment to remember the first time I heard that song, and what it did for the dreams of 10-year-old Lisa back then. Those dreams shaped this moment, and I know this moment will impact someone else's dreams for the future.
Life can be amazing in that way.
…. headset on, microphone ready …
… the ball is tipped …