Trace McSorley walked out of the tunnel early in the pregame, in workout clothes, without his pads, and his grandfather's dog tags visible, hanging from his neck.
He started rubbing them between his index finger and thumb, as I asked how he was feeling.
"I'm emotional," he said.
"Huh?" I was surprised. "But you have done so well keeping your emotions in check all week?"
He smiled. "It started to hit me about an hour before we arrived at the stadium, during our meetings. And then when we pulled up on the bus. This is my last home opener and last season."
"How do you counter that?" I asked.
McSorley shrugged his shoulders, "Just play."
He ran off to warmup on a field, where a few hours later, he would lead his team to a game-tying scoring drive to force overtime vs Appalachian State. It was a touchdown pass, and a nation-leading 29thstraight game with one, to redshirt freshman KJ Hamler that made Matt Millen describe it as a "Heisman play." Regardless if you agree with that notion or not, if he doesn't make it, he won't continue to be on the (all-too early) Heisman lists.
"It's a big honor to be talked about in that light," McSorley told our crew during our Friday production meetings. "But what I pulled from Saquon last year is that it's a full season. And it doesn't matter what people say at the beginning. It can change like that."
So McSorley says he will continue to lower his head, plow forward, and focus on making this year, the best year of his college experience. He now has Ricky Rahne to work with as an offensive coordinator, who involves McSorley into the gameplan as early as Mondays now.
"(I learned from my playing days) is you call the plays the quarterback likes, not the plays you like," Rahne said. "He's a bright football mind, and he probably doesn't know he will coach football someday," Rahne paused and waited for us to laugh.
"He will?" I asked.
"Well he doesn't know that yet," Rahne smiled. "One thing is for certain, is that he is going to play in the NFL for a long time…"
McSorley had a good relationship with Joe Moorehead, but this one with Rahne is different. The tight ends-coach-turned-offensive coordinator recruited McSorely.
"He's one of the reasons I came here," he said.
Rahne was coaching at Vanderbilt at the time, working under James Franklin, and the school had already offered him as a safety. But there was something that made Rahne want to check this undersized competitor out as a signal caller.
So he did. At a 6 AM workout in Virginia.
"I remember him throwing a corner route on the field, on maybe his fourth throw (of the workout)," Rahne said, "And there's still dew on the ground and everything, and he rips one out there, and I thought…ok, this guy can do it. When you're around him on the field, it doesn't take you long to realize, he's pretty special. When you sit with him in a room like this, you may not know that, because he's a very humble kid, but he carries himself in a way that you're pretty confident he's going to be a winning quarterback."
The college football world saw it again on Saturday night.
——————————————————————————————————————————-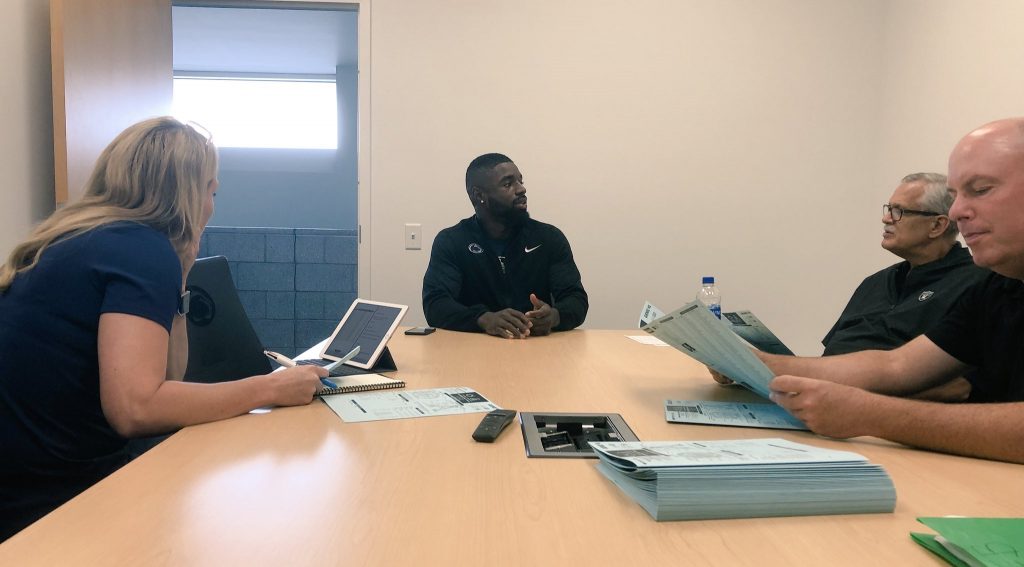 (photo courtesy: PSU Athletics)
When we asked Nick Scott who he expects big things out of this year, his expectations turned to himself.
"I've been putting in a lot of work, been learning a lot, taking everything I can from these coaches and those before me, I think I have all the tools, I just have to capitalize."
So do his coaches.
"Nick is our most complete guy," Brent Pry, PSU's defensive coordinator, said without batting an eye.
His family expects big things too.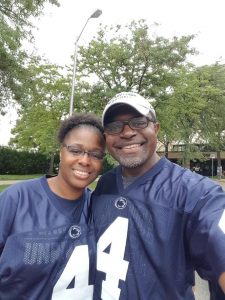 (Kisha and Irvin Scott, Nick's parents)
"We tried to show our kids the leadership experience, not always just sit there and lecture to them about the leadership experience," Irvin Scott, Nick's father said.
To say the Scott household practiced what they preached, would be an understatement.
Nick comes from a family of educators, administrators, and ministers.
For starters, he has a grandpa who was a minister, two grandmothers who were educators, including one who was a vice principal in the South Bronx.
His parents? His mom was a math teacher for about a decade. His dad was a teacher for 15 years, a principal for four, a district leader for four, and is now in his second year as a professor at Harvard. He teaches, probably to no surprise, "educational leadership."
"To me, the eventual ingredient to being a good leader, and Nicklaus has this, is that you have to like people as much as you like whatever you're leading them in."
Anyone associated with Penn State football will tell you that Nick Scott is one of the best leaders on the team. But he wasn't always vocal. Relocation and moving because of job opportunities with his parents encouraged it. The Scotts moved from Pennsylvania to Massachusetts, to eventually Virginia – which is where PSU began to take a serious notice.
Nick was a junior in high school at the time, and his dad credits his ability to adapt to a tough circumstance, living in a new state, and going to a new high school so late in his teenage years as growing moments.
"He just went with the flow," Irvin said. "He learned to adapt to anything for our move to Virginia. He learned to be a vocal leader while playing at a smaller high school in Massachusetts. He had to take on more of a leadership role there."
So those family moves proved valuable. So, too, were the constant teachings and discipline he found in his own home.
"We just ignored them (Nick and his two brothers) until they got their act together," joked Kisha Scott, Nick's mom. "(In all seriousness), It is vital to have structures in place. To spend time with them. If they do something wrong, then explain to them why it's wrong…
…It got to a point that I would just change the tone of my voice, and nothing else, and Nicklaus would say, 'Mom, why are you yelling at me?'" she said, while laughing.
So safe to say, Nick Scott's biggest pickoff, came with the lessons he learned at home…from his own two-deep of teachers.