History.
Beyond strategy, that's what was talked about in Madison this week.
It's a rivalry series that began in 1890.
But Paul Chryst has taken a much different approach in sharing this history lesson than when he was a Badger player.
"The coaches kind of handled it all back then," Chryst told our TV crew on Friday. "But it's nice to have the players take some ownership."
It's why the 13 Badger seniors would take the rest of the team through an "Axe presentation" during game week about the history of the series. And it's why each of the seniors take a turn to talk about what this game means to them personally.
"This is their moment," Chryst added with a nod, "I want them to maximize it."
Coach Kill on Coach Claeys: 
Immediately after Kansas State beat Kansas in an early game on Saturday, former Minnesota Head Coach Jerry Kill was hopping in his car to get to his TV and his couch.
"I have a special parking pass for today," said Kill, now the Associate Athletic Director at Kansas State. He laughed with me about it on the phone Saturday morning, "It's all so I can get out of the parking lot quicker to come back and watch the game."
Kill still talks to Tracy Claeys every week. "You work with a guy that long, it's like family or best friends," Claeys said to us. "I miss having him around. Some weeks we talk football and some weeks we don't talk football at all."
Kill told me over the phone that Claeys "is one of the smartest people he has ever met," adding he was always the one Kill went to in their 20-plus years working together for an opinion, and it could be about almost anything.
"It doesn't look like he says a lot," Kill told me. "But he does. When he talks, it's with a purpose. He's a little like Bill Snyder (Kansas State head coach) in the way he is. He never loses his cool. He's even-keeled. He can move on to the next play pretty quickly, and what a lot of people don't realize is that a lot of head coaches can't do that. But Tracy can move on to the next play and not dwell on the last two."
"I'm proud as heck of him and the chance he has for this team to win nine games," Kill said.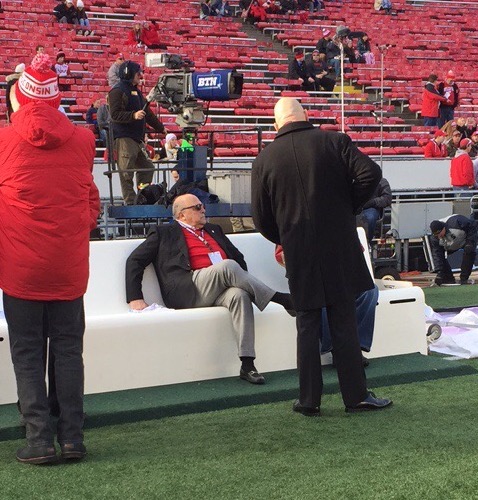 Wisconsin in the College Football Playoff
"Win and win" was the good strategy Paul Chryst said to me in the pregame for the Badgers final two games to help Wisconsin's chances to get into the CFP.
"We can't control anything but these last two games," he added.
Chryst's boss, Athletic Director Barry Alvarez, is on the CFP selection committee. But Alvarez told me in the pregame "There's no awkwardness" between Chryst and him in this situation because "I literally cannot say a word."
Much like the design of the NCAA selection committee, the CFP has the approach that when the topic of a committee member's school comes up in discussion, that committee member is not involved.
"I can't be in the room when they bring up Wisconsin," Alvarez said to me. "Anytime the Badgers come up, I literally have to leave."
Fourth Title with Three Different Head Coaches
Wisconsin's consistency is impressive.
Since 2011, this is the Badgers 4th conference championship.
More impressively? It has been done under three different head coaches.
Show me a program that has done THAT.
Bret Bielema, Gary Andersen and Paul Chryst … all hired by Alvarez.
"'Fit' is what you look for," said the Wisconsin AD.
"Wisconsin doesn't have an overabundance of talent," Alvarez added. "I always say the heart and soul will come from Wisconsin, but most likely the feet and hands will come from somewhere else."
Alvarez added Chryst was an easy fit for Wisconsin. Unlike Bielema and Andersen, Chryst has Badger blood. "He's consistent in his demeanor," Alvarez said. "And most importantly, he has won the in-state high schools over."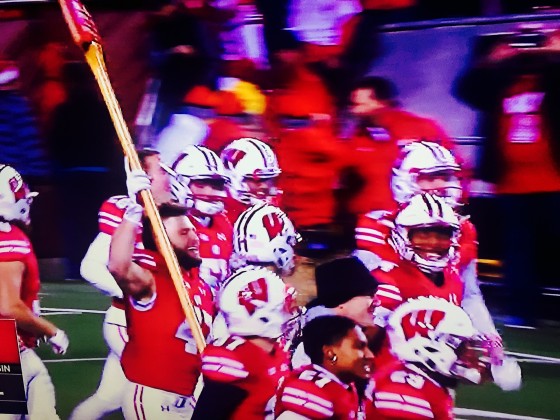 Biegel's last hoorah.
Vince Biegel was one of the 13 seniors honored Saturday.
His father, Rocky, was enjoying every moment.
Rocky coached his son in the early years, through flag football in first-and-second grades. He was also there for him through the beginning stages of tackle football through third-and-fourth grades.
Badger fans have grown accustomed to watching the tough-minded Biegel in his years in Madison. So don't be surprised when his dad said "flag football would sometimes get more dangerous than tackle football."
"When he got to a league where he could tackle," Rocky said, "We would sometimes put Vince at running back, and he wasn't excited about running back. He wanted to tackle."
Defensive Coordinator Justin Wilcox smiled when talking about his linebacker. "He plays at one speed," he said. "So you better not be that scout player who is taking a play off."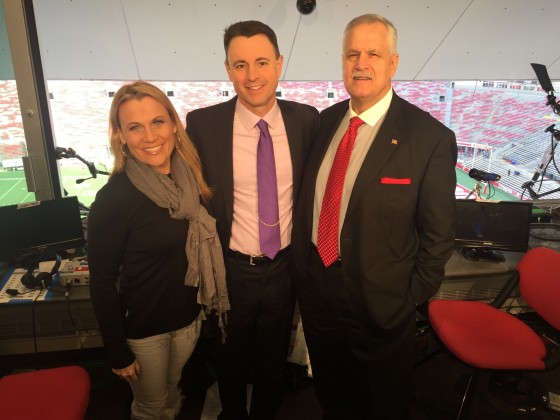 13 Weeks…..and gone! 
When August comes around, and I start seriously thinking about college football again, the end of the regular season seems as far away as a senior day to a freshman.
But it has flown by once again. Come and gone like an open field sprint by Saquon Barkley.
The football season is unlike any other TV sport season for me in the fact that we work with the same crew every week. That doesn't happen for basketball or volleyball or soccer or softball. So your football crew becomes your football family, and after 13 weeks together, morphs into just "family."
It's who you count on seeing and sharing time with, sometimes on a Thursday through Sunday amount of time with, depending on the travel schedule.
Viewers can see Kevin Kugler, Matt Millen and myself on TV, and I had a blast working with them both. But what you don't see is the dynamics of the truck. The constant split-second decisions that need to made during a football game. Decisions that are done hundreds of times in three hours. What you don't see is the crew setting up in the rain on a Friday, or taking down cables and wires and cameras until 2 or 3 AM because we just did a night game.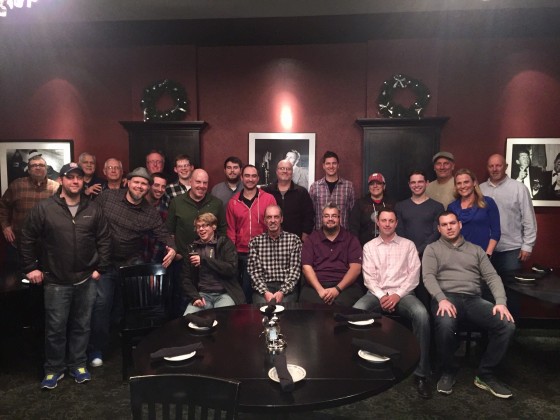 The people you see in this photo are honestly some of the best at their respective roles. They are not only good at their jobs, but they make 13 weeks together … fun.
As I sign off this football blog for the final time in the regular season, I say thank you to THEM.
And thank you to YOU … for following.