Photo Courtesy: mcall.com
---
Saquon Barkley was reflective on Saturday night.
He took the field for pregame at Rutgers. It was the first time he played there in his career. Barkley started to warm up on a field he had always wanted to play on as a kid. In fact, he told his Mom and Dad that as early as six or seven years old. It's a school which offered him a college football scholarship first. And a place, he verbally committed to first.
"I am very happy I am at Penn State," he said. "But I will always be grateful for Rutgers. They gave me my first chance to play college football."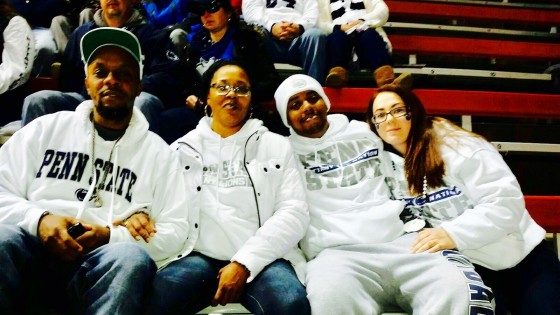 Saquon Barkley's family (from left to right): dad, mom, brother, sister-in-law
---
Barkley had a handful of family and friends at the game Saturday night.
His mother, Tonya Johnson, and father, Alibay Barkley, normally go to his home games. This past weekend was like a home game, Piscataway is just an hour-and-twenty-minute drive from their home in Pennsylvania.
"Riding a skateboard, boxing, basketball, football he always had an open mind and heart," Alibay said about his son.
"He won't let you leave or walk away without answering his question," Tonya continued. "He would challenge you. He would ask you a question. He would research it on his own. If you tell him a wall is gray, and he feels like the wall isn't gray, he will do research on it and come back and tell you it's a 'smoke gray' or a 'light gray.'"
Alibay added, "It's how he does school work or watches film."
One of the best examples of how analytical he is, you can check out this feature BTN's Howard Griffith did with Saquon, as they break down his running strategies.
---
Nittany Lion "Watershed Moment"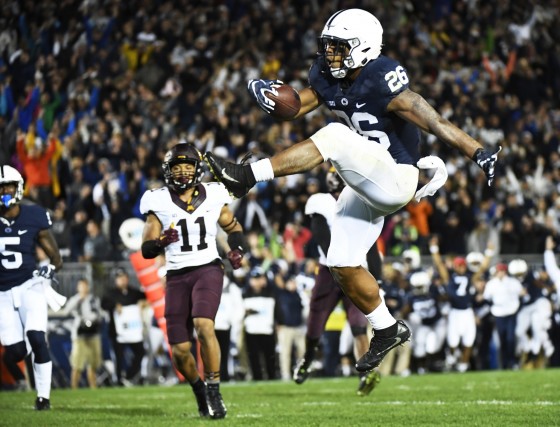 Photo courtesy: mcall.com
---
You remember that game-winning OT touchdown run by Barkley versus Minnesota, right?
Well it didn't just win the game for Penn State, it might have just won the season.
Offensive Coordinator Joe Moorhead told our crew that play was the season's "watershed moment" for the offense. It was a pure zone read to Barkley, instead of a split zone read. Suddenly, Moorhead realized THIS team might be better as a pure zone read team. It forced the OC to ask his quarterback Trace McSorley to run more. McSorley did the next game versus Maryland, and since then, this offense has been different and much more effective.
Franklin's Focus
We all know about James Franklin's focus.
"__________,  ____________, ___________" – insert whatever team they are playing now, and that's his mantra for the week.
He won't even touch upon the college football playoff rankings with not only his players, but his coaching staff.
Defensive Coordinator Brent Pry immediately laughed when I asked if you could say the words "college football playoff" in any of the staff meetings. "Yeah, right," he said.
Franklin won't even talk about it with his wife.
He joked with our crew that after Tuesday's ranking had Penn State at #8 in the country, his wife that night said, "Come on, you can tell me how you really feel."
Franklin shrugged his shoulders and responded to his wife, "I really don't care. I really don't think about that."
So … it's Michigan State. Michigan State. Michigan State.
Even at home.