Ohio State's bus pulled up, and one by one, football coaches in suits walked off.
Greg Schiano never slowed down or broke his stride. But as he walked toward the visitors locker room, he looked up and around the stands.
He wouldn't divulge fully what went on inside his head during that moment, except for this:
"This is weird because of how many years I spent here," he said to me in the pregame. "But I have a game to win, and that's what I have to focus on now."
It was his first time being back to High Point Solution Stadium since he was the Rutgers head coach that saw eleven seasons, six bowls, a stadium that grew in stature, and the Empire State Building turned scarlet after a win over Louisville.
Piscataway was doing some eyebrow-raising football things during the Schiano era.
"I hope he gets a standing ovation," current Rutgers Head Coach Chris Ash told our crew on Friday. "He did a tremendous job here, he deserves that kind of reaction."
Schiano spent an hour Friday night at the team hotel with the man who hired him.
"When you spend 10 ½ years to get that place to where it was at, against all odds," Bob Mulcahy, the former Rutgers athletic director said, "You keep a relationship."
Mulcahy came to the game Saturday night and wore red. He joked that would be the only color he could wear and no one could complain.
"(Greg) had a passion and a charisma," Mulcahy said. "He could recruit that's for sure."
Schiano was the last candidate Mulcahy interviewed, and it was obvious he had done his homework.
"He told me three people he wanted to bring aboard," Mulcahy remembered. "And none of them were football coaches."
One was an academic advisor, one was a strength coach, and one was an assistant athletic trainer.
"It was obvious he knew how to build a program," Mulcahy said.
They agreed to a deal about a day and a half after that interview. No agents got involved.
"We were just two Jersey guys who understood the state," added Mulcahy. "I take great pride in him."
---
Another record for J.T.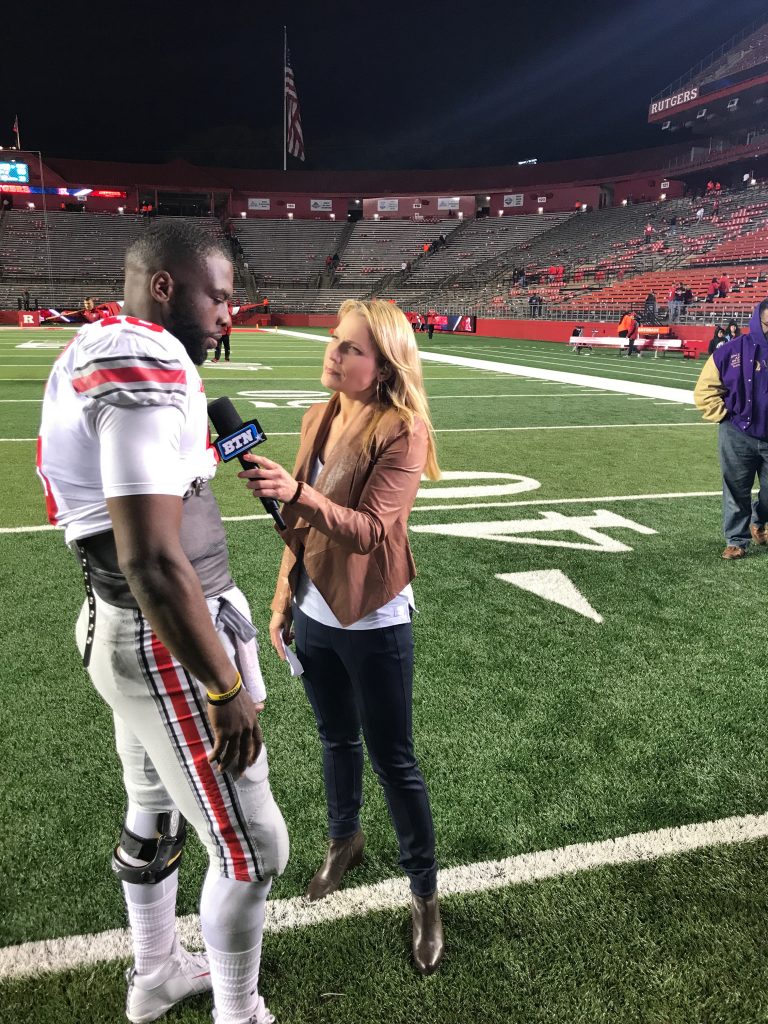 J.T. Barrett became Ohio State's all-time leading passer Saturday.
It's just another one of the many records he can add to his resume.
"It's gonna be hard to say goodbye to him," Meyer said in the postgame.
Part of Barrett's success has been learning how to block out the noise.
"I figured that out back in the summer of 2014," he told me.
It was the summer after Barrett lost the starting job to Cardale Jones.
"I was always comparing myself to Cardale," J.T. added. "Oh, man Cardale just made a good throw, so I have to… or Cardale did this and I have to do this now. I was too worried about his performance and not my own."
It was the summer where Barrett learned to focus on what he could control.
"If criticism is not coming from myself, or my coaches, or people l'm in the heat of the battle with, than I can't listen to it," he said.
---
"Be a 5"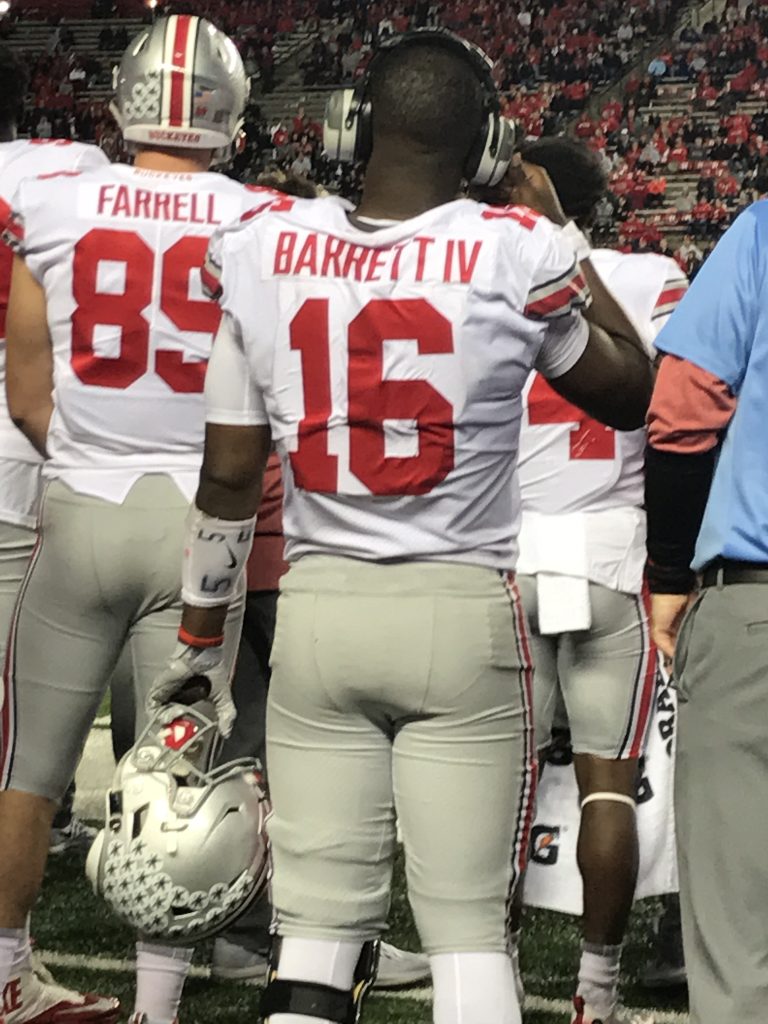 J.T. Barrett played Saturday with a "5" on his wristband.
It was a symbol of being a fierce competitor, according to Urban Meyer, who explained the Buckeyes' latest numbering system for players and coaches.
"A zero is a zero," he said. "A 'one' is a noncompetitor, a 'two' shows up, a 'three' is average, a 'four' is a competitor and a 'five' is a dude or a fierce competitor."
The numbers next to the names of the players are posted in the meeting rooms. So accountability stares them in the face.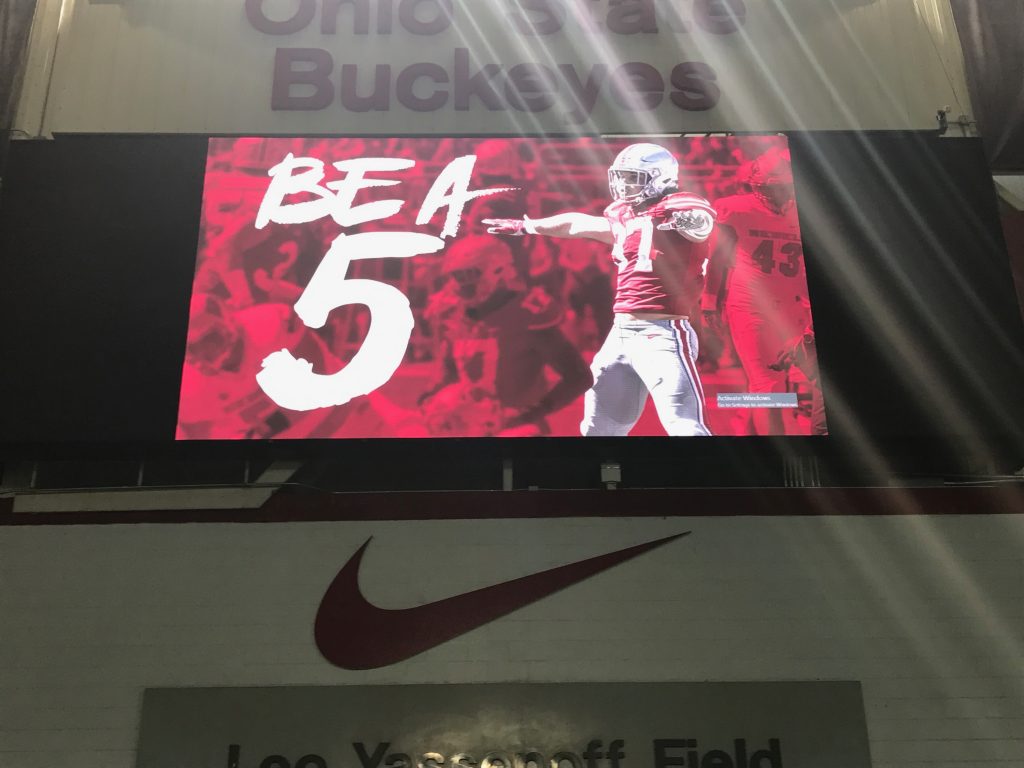 You could see the "5" written on Greg Schiano's hand during Saturday's game.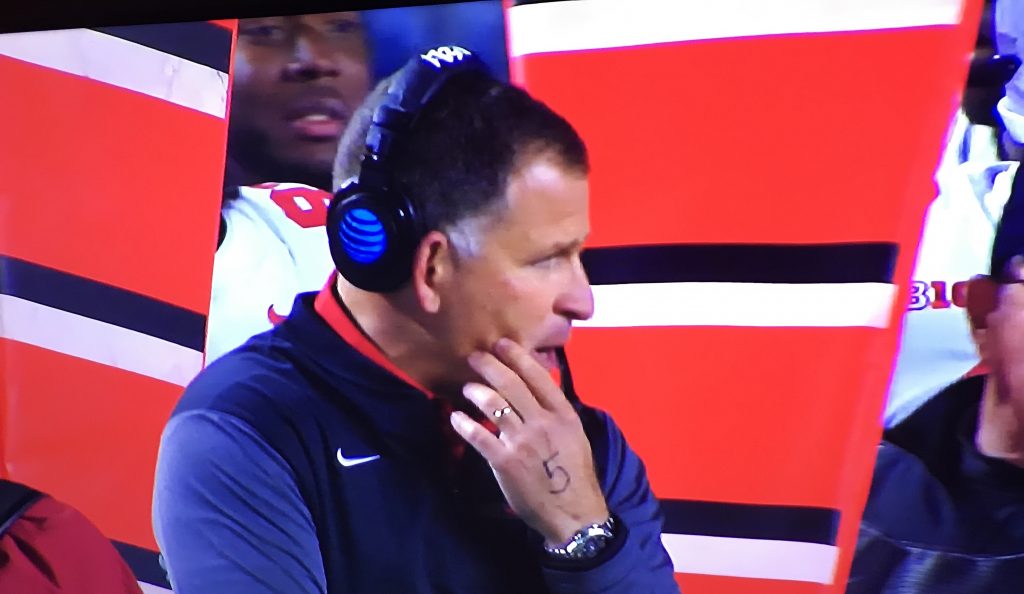 "And who has a '5' on the coaching staff?" I asked Meyer earlier in the week.
"We keep that in-house," he laughed. "But nice try."
"I will say, if you're a '3' on my staff, you won't be here very long."