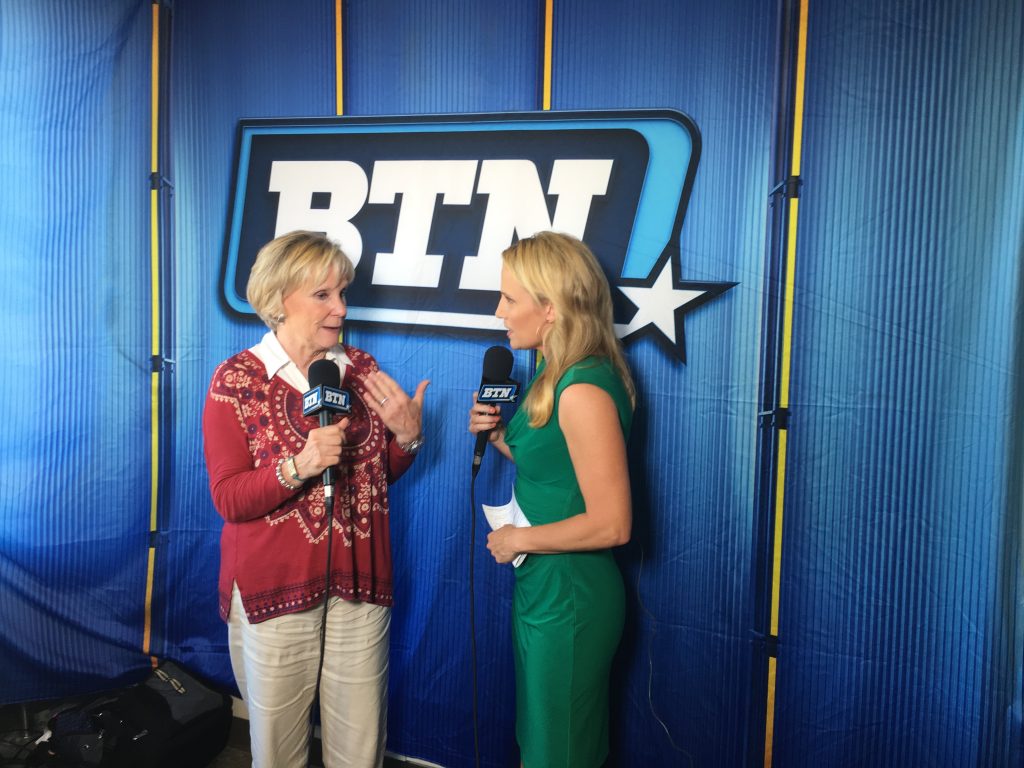 As she watched the 2007 highlight of Indiana beating Purdue, Jane Hoeppner Hunckler's reaction only made sense on Saturday …. she sighed.
I'm not sure many got the perspective I did this past weekend. To watch Jane watch herself, and that moment.
She was in the broadcast booth to do a halftime interview with us. Coming out of the commercial break, both of us watched off a monitor, as Austin Starr's 2007 field goal sailed through the uprights. It ensured Indiana would get to the postseason for the first time in 14 years. It also fulfilled her husband's promise, Terry Hoeppner's "Play 13" mantra, to get the program back to a bowl game. Jane Hoeppner displayed one of the strongest visuals of that play. The shot of her waiting, and then the relief and subsequent hug after the field goal was made.
Saturday was the 10-year anniversary of that team, which made it to the Insight Bowl. It also meant it had been 10 years since the passing of Hoeppner. Both were honored throughout the game and by the team's customized uniform that day. The numbering on Indiana's jerseys resembled the limestone texture of Hep's Rock that stands on the north side of the stadium.
I can't imagine the emotions she felt on Saturday.
We are all very appreciative of the time Jane took to share her thoughts with us at halftime.
Enjoy it here …. Jane Hoeppner Hunckler Interview.
---
Allen on Hep … 
---
"I think the last conversation I had with him was to ask if I should coach in college," Tom Allen said about his final interaction with Terry Hoeppner.
Allen made a name for himself coaching high school football at several stops, but the last being a head coach at Ben Davis in Indianapolis.
He had started to feel the itch to move to the next level, and he asked Hoeppner for advice.
"He was special on how he made all of us (high school coaches) feel," Allen told J Leman and me on Friday. "There was a certain spirit that he had. He loved his players and they loved him. He was a special guy."
---
Allen and DeBord 
Speaking of advice, Tom Allen would often times turn to his longtime friend and now his current offensive coordinator.
Every move from high school to college and the several stops prior to Bloomington, Allen would pick up the phone to ask DeBord his opinion.
But there was an exception.
"The one time he didn't call me for advice was to take the Indiana head coaching job," Mike DeBord laughed.
His phone did ring, though.
It came after Tennessee's bowl game, and while DeBord and his wife were traveling up north to visit family. When DeBord saw the name on his phone, his wife said, "Well you better answer that! You know why he's calling!"
He made room for some Cream and Crimson in the closet after they hung up.