B1G is Mt. RUSHmore
The B1G has 4 of the top 6 rushers in the country, and Wisconsin's Melvin Gordon is one of them.
If you think he keeps tabs on what Nebraska's Ameer Abdullah or Indiana's Tevin Coleman are doing, you'd be right.
Gordon told me last weekend that every Saturday, he checks up on their stats. And Wisconsin Head Coach Gary Andersen says that's not a selfish thing. "If Melvin is the best runner in the B1G, that's good for Wisconsin football."
Gordon looked at me and smiled, "If I don't get at least 100 yards in a game, I feel behind those guys already."
Trotter Twins "Miracle Babies" 
Michael and Marcus Trotter are twins, both seniors for Wisconsin, and both contributed to a defensive "gem" last weekend vs. Maryland.
Marcus is a starting linebacker, Michael had to walk-on.
Their parents, John and Dana Trotter, call them the "miracle babies."
Dana Trotter had 4 miscarriages before she became pregnant with these two. They EACH weighed 7 pounds, and Dana said they constantly had her eating to the point she gained almost 100 extra. Just weeks before she gave birth, she couldn't fit in a car to drive, or sit in a restaurant booth to eat.
She gave birth to Marcus and Michael at the age of 39.
Marcus is #55 and Michael is #7.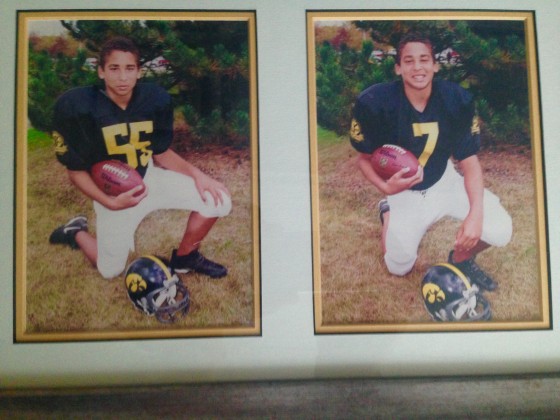 Their parents say they have both caught the "inseparable identical twin bug." When they were four years old, they were separated for a weekend, and the two boys were listless, emotionless. Dana adds, "Almost nonfunctional."
To this day, there continues to be a special bond between them.
They commuted 72 miles everyday from Racine to Milwaukee, in order to attend Marquette University High School together. And the bond has continued to college. They are roommates, and now they both play linebacker. Even Mom jokes, "They are going to have to figure out how to live in the same city after they graduate. I don't think they can function well without the other."