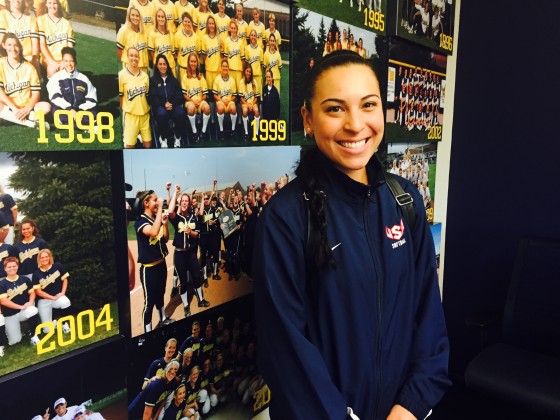 As ironic as it is, her legacy is strongly shaped by the moments when bat didn't meet ball.
So it only seemed fitting that in the final at-bat of her collegiate career….
… Sierra Romero was walked.
With the tying run at second base, Florida State decided it would much rather put Romero on first base, representing the lead run, than give Michigan's best player a chance to win it all on her own.
It's the ultimate tip-your-cap moment in baseball and softball — when a team decides that even at "our" best, we're not positive we can beat "your" best. So we're not even going to try.
And so Romero's final at-bat ended like so many others — a bow and a salute to first.
It was this past spring, while talking with her in Michigan's softball facility, Romero admitted she may only see "one or two strikes" in every at-bat….if even that. Carol Hutchins believes she's the best in the game at making adjustments, even within the same at-bat. She jokes "I'd like to have Romo as an umpire. She sees the ball so well."
Romero sat and smiled while reflecting how teams defend her. Then she stopped, leaned forward in her chair and gave the Sierra Stare, which opposing pitchers have had nightmares about, "When teams get me out, they act like they won the national championship or something."
She leaned back in her chair, rolled her eyes, and her stare began to soften …  then she laughed.
She knows it's one of the greatest gestures of respect.
Of course, there were plenty of moments when the bat DID meet ball.
Few have done it that many times, in those KINDS of ways, and in the NUMBERS of ways.
Oh, the numbers.
The first in softball HISTORY to become a member of the 300-300-300 club – 300 RBIs, 300 hits, and 300 runs scored. She is the NCAA all-time leader with 11 grand slams and 305 runs. Her career numbers rank her first in school history in batting average, slugging percentage, runs, RBIs, HRs, walks…not to mention becoming the program's first USA Collegiate Player of the Year and four-time All-American.
Back during the spring of her freshman year in 2013, when most of us really didn't know who Sierra Romero was, her head coach did. What you have to know about Carol Hutchins is that behind that gameday steely stare, she is one of the funniest people you'll talk to. And she's naturally funny, meaning she makes you laugh without trying too hard. She makes you laugh by just having everyday conversations.
So it was on a spring afternoon in 2013, when it seemed like Hutch was cracking another joke. She was talking about her team and this new freshman class. When she got to Romero, she said, "And Romo…she is as talented a kid as you're going to get. I believe she could play for the Detroit Tigers."
I immediately laughed. Good one, Hutch.
But Hutch didn't crack a smile. Instead she deadpanned, "I'm being serious."
Oh.
The all-time winningest coach in softball history doesn't have to sugarcoat anything anymore. When you get 1,461 wins in your career, coaching for and against some of the best the game has ever seen, you have earned that. When Hutch calls a player "special," you pay attention. But when Hutch calls a player "special," as a freshman, and she has only played 30 college games up to that point, you may raise an eyebrow, but you watch …  really closely.
And it was something to watch.
By the end of that freshman year, Romero set the Michigan single-season homerun record at 23. In 2013, she became just the second player in Big Ten history to be named both the conference's Freshman AND Player of the Year. Before her time was done, she would rack up two more conference Player of the Year awards, to make it three out of four years, and just the second time in Big Ten history that has happened.
But the numbers won't tell you the full story of that freshman year. Romero didn't have the confidence she always seemed to show. That year, when she took the starting shortstop position from an upperclassman, she needed reassurance she belonged in that spot, and she got it from her team. "They made me believe they needed me."
Fitting then that one of Michigan's all-time greatest concepts: "The Team, The Team, The Team," was responsible for pulling out the star of one of its all-time greatest.
The Michigan coaching staff first saw Romero play when she was in the 9th grade, "She was the youngest player at a camp we were at," the head coach remembered.
Even at a young age, they fell in love with her timing and her speed. But not her speed on the basepaths, rather the turn she took with the bat. "She has the fastest hands," Hutchins said. "She needs that, because she only weighs like 120."
As with many players, and as it should be, Romero needed to be convinced that Michigan was the school for her.
So the California native did anything any other high school student would do. She visited Michigan. But the California native did something no (warm weather) high school student would do – she visited Ann Arbor In the winter. It HAD to be the winter. "I wanted to know if I could handle it," she said.
The visit passed.
Then when she watched Michigan play, she saw Hutchins get kicked out of a game.
Sold.
This was the team and the coach she would play for.
She was picky. After all, she had one serious coach her whole life – her father. It was Michael Romero who first motivated her to play the sport when she was younger and watched him hit home runs. Her mother, Melissa, is the supportive piece, but dad is the competitive part. "If I go 2 for 3 on the day," Romero said, "He is asking me what happened in that one at-bat?"
It was all part of just "being a Romero", she acknowledged.
I didn't know what that meant. So I asked.
Romero paused. It was almost like she had never been asked that question before.
Looking down at the floor, she thought for just a split second, then she raised her eyes. Romero always made eye contact, not just at the plate but in conversations. "It means you expect perfection even if it's unattainable."
She nodded.
That drive for perfection is the similar bond to the greats. They somehow understand the value of chasing it, while not being suffocated by it. They seem to understand the "push" as well as the "pull….back."  During her junior year, Romero wrote the word "Breathe" on her batting gloves. It reminded her to step back, relax, and live in the moment.
Softball doesn't get the volume of fans that football or basketball does. But greatness isn't measured by the number of people watching.
Sierra Romero will never win a 40 race with Michigan's Heisman trophy winners. She would most likely lose a one-on-one contest with some of the Wolverines' most championed men's basketball players. But for a very proud athletic institution, few have had a greater impact on any sport at Michigan, than her.
"She doesn't tell people what to do," Hutchins added. "She inspires their confidence."
Those intangibles are a gift that can't be measured on a scorecard. Beyond the numbers, that unspoken word and the Sierra Swag have made her unique. One of the best athletes at Michigan. THE face of the program. And a name for the sport of softball. Nationwide.
If you missed watching her play in college, you'll have more chances. She'll continue to play pro ball in the NPF and, if health and good fortune continue, most likely in the 2020 Olympics.
It's in this next step, Hutchins believes, Romero might have her greatest impact. By signing an unprecedented one-million dollar contract recently, Monica Abbott already set the standard for softball players and female athletes in general. Hutchins believes Romero has the confidence, the look and the talent to continue to take softball and the "female athlete" to the next level.
Just weeks before her career finally did end, the Wolverine head coach contemplated what her star player's legacy would be.
"She has handled all this with a lot of grace and humility," Hutchins smiled. "That to me, is being great."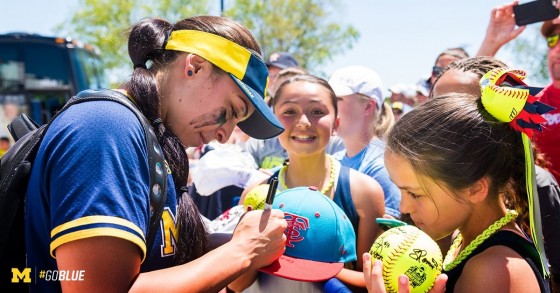 Photo courtesy: Michigan Athletics/Michigan Softball
Moments after that final walk, in her final at-bat, of her final game of her college career, Sierra Romero was the last Michigan player standing on the field in Oklahoma City. A throng of fans were asking for her autograph, and she obliged for the next 30 minutes.
Few, if any, have done it the way she has.
You keep doing you, 32.
We're all watching now.
—————-
Two of my favorite videos from Romero's senior year:
2016 Big Ten Network feature on Romero: 
2016 Romero HR call in Big Ten Tournament that gave her the NCAA all-time runs record. "You do you, 32." 
One from Romero's junior year:
2015 Romero breaks the NCAA Grand Slam record vs PSU in Big Ten Tournament