Truth be told? I grew up in Michigan during the Bad Boys era, and still loved Michael Jordan. Need proof? Exhibit A: My bedroom door….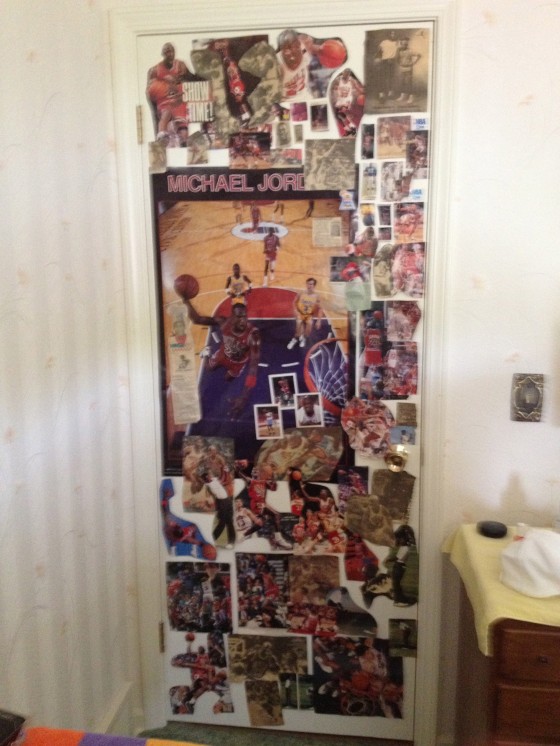 …….and part of my wall. I won't even bother with the ceiling.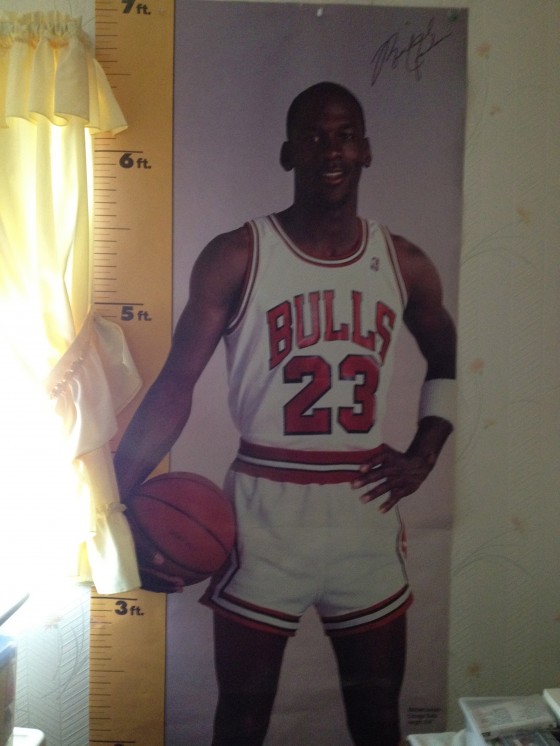 In fact, one year, my Christmas gift was a Dec. 25th clash in Chicago between the Pistons and Bulls. I stood and cried when MJ ran out on the court at Chicago Stadium for the first time — and my first time seeing him in person.
It would also be my first experience on what a special athlete, and an eventual championship team, can do for the city of Chicago.
Fast forward a few years, and to my college days.
My freshman year at Northwestern was in 1994, and depending on where you were in downtown Evanston, you wouldn't know a Big Ten university was located just blocks away. But the Gary Barnett-led "Take the Purple to Pasadena" football team changed all that. Suddenly, in 1995, NU logos were popping up in storefronts, Northwestern gear was actually a hot commodity, and the mainstream Chicago media outlets finally cared about the 'Cats. It would be my first experience on what a special turnaround can do for the city of Chicago.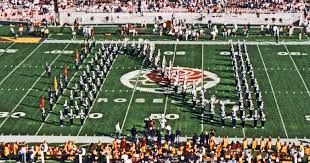 Take a trip with me now to present day?
There's a special thing going on around the city again.
Chicago's WNBA basketball team is gunning for a championship, with an MJ-like star in the league, and a Rose Bowl-like turnaround season.
The Sky sit atop the Eastern Conference, and are challenging for the best record in the entire WNBA. It's stunning at first glance, considering before this season, the team never had a winning record, let alone a playoff birth. But a closer look, and you see the turnaround has been systematic. Owner Michael Alter and the Sky organization had to draft Sylvia Fowles in 2008, hire Pokey Chatman in Oct. 2010, then draft Epiphanny Prince in 2010 and Courtney Vandersloot in 2011, acquire Swin Cash in 2012, and find all sorts of complementing players along the way.
The final piece to the puzzle came on April 15, 2013. Ironically, if the Sky didn't barely miss the playoffs by a game last season, they miss out on the chance to draft their superstar. Sometimes bad fortune is a detour to a championship.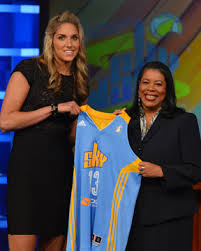 So in April, the Sky drafted Delaware's Elena Delle Donne as the second overall pick. She is not only the best player right now in the WNBA, she is a marketer's dream. Delle Donne can be a game-changer with her good looks, the family-comes-first attitude, and the Dirk Nowitzki-type talent. "That's good," she told me back in June, when I mentioned the spotlight is only going to get larger. She shrugs her shoulders at the pressure. And trust me, she wants attention, just about as much as she wants a double-team. But she deals with both. And tops both.
It all comes full circle.
Back when Delle Donne was growing up in Delaware, she wore Air Swoopes shoes–the signature shoe of Sheryl Swoopes — the "female" Air Jordan. At 23 years old, Delle Donne now plays in Jordan's old city, and nearby Swoopes' current head coaching job at Loyola University. In 2013, it's Swoopes who is telling her current players to "Be Like Elena."
"Look at what Elena did at Delaware," Swoopes said, trying to show recruits what can happen when you don't always follow the biggest and best programs, like UConn, but you also follow the tug of your heart.
Delle Donne is tugging at Chicago's heartstrings now. And Chicago is tugging back. She has fallen in love with deep-dish pizza, and bought a Great Dane puppy named Wrigley. In her mind, after throwing out the first pitch at Wrigley Field, there really was no other name choice.
It's hard not to get drawn in more.
She is a superstar. As a rookie, she hits shots only veterans can dream of. (see the Minnesota win)
She is a gifted athlete. She can drive a short par-4 without golf lessons, but gets bored anywhere after 9-12 holes, depending on who you ask, her or her Dad.
She has a sense-of-humor. At 6-feet-5-inches tall, she told me she has never owned a pair of high-heeled shoes. Maybe that also falls under practicality.
She is human. Her favorite memory during the All-Star break, was cooking dinner with her Mom. Apparently, the blue crab in Delaware rivals that of Maryland.
She sees a greater purpose. "I feel like one of the reasons I have this platform, is because of Lizzie," her older sister who has cerebral palsy, is autistic, and can't see or hear. The early childhood education major, with a focus on special education, will finalize a foundation here shortly.
They are all the benefits and burdens of being a superstar.
And they are all falling in line with the team success of the Sky.
Delle Donne was all smiles Friday night, when the Sky clinched a playoff spot for the first time in franchise history. She told me in the pregame, that Pokey Chatman had reminded the team, "It's not about the clinch, it's about the clutch."
For Elena Delle Donne and this Sky team, it is all about both.
This city, this area, has seen stars, and Cinderellas, and champions before. Welcome to the next chapter in Rosemont.