Ever have one of those "full-circle moments"?
Mine came on the golf course today.
So …… an 87-year-old, a 69-year-old, and a sub-40-year-old went golfing together…..
I know.
Sounds like the start of a joke.
We were at Marshall Country Club in Michigan. I was the sub-40-year-old (worded tenderly). I played with my 69-year-old dad, and Don VanderGeest.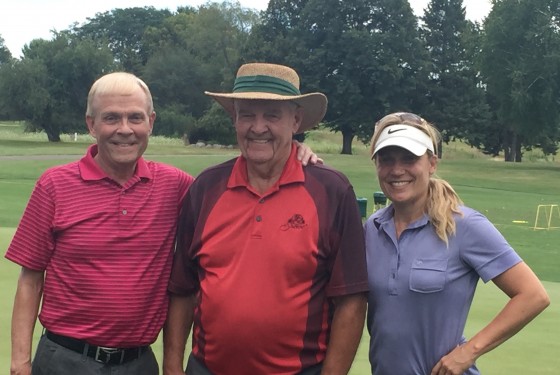 Don is 87.
You wouldn't know it. Or guess it.
He's as sharp as a tack, has a biting sense of humor, and he can hit a drive 200 yards.
He's 87.
Many folks in the state of Michigan, and in particular, in the high school world, know Don as a former high school boys basketball and golf coach. Or they know him as a former official, and/or supervisor of officials.
My dad knows Don as a coach. Then a mentor. And now as a friend.
Don coached my dad in high school at Grand Ledge, Mich. When my dad was a senior, Don moved to Marshall, for another teaching and coaching job. The relationship came full circle, when many years later, an English job opened up at Marshall Middle School. Don called my dad and asked him if he was interested in applying for the job. My dad was. Applied. Got it. AND also got a job coaching in the boys basketball program at Marshall High School.
As irony would have it, my mom had already been teaching at the middle school for a year.
And the rest is history.
So I learned quickly, and on this golf outing, how significant Don (and his wife Marilyn) had been to our family.
We had lunch with Marilyn after our round. She put it a little more succinctly, "Without us, your dad wouldn't have moved to Marshall. He wouldn't have met your mom. And there would be no you. And now. THERE'S the story of your life," she laughed.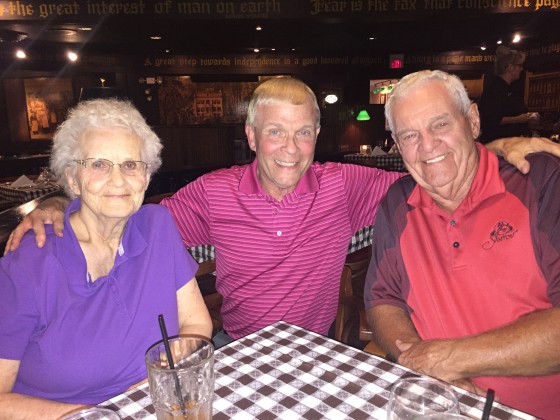 Did I mention Don and Marilyn are BOTH 87?
Both smart. Both drive. Both live active lives. Don golfs at least twice a week. Marilyn used to bowl. "I had to give it up when I had some shoulder problems," she said.
"Oh, so how long has it been since you bowled?" I asked.
"I gave it up when I turned 80."
Don and Marilyn have lived in the same home in Marshall for 47 years, since 1968. It's a home Don completely built on his own. After a full day of teaching, then a full night of coaching, Don would eat "supper" and walk over to the empty lot next to the house they currently lived in. There, he would plug away at building their future home. He did get some help, by offering his kids $1/hour, which in the '60s, was big cash. "It never felt like work to me," the former woodshop teacher would say. "And so I did it."
Marilyn just nodded. It just made sense.
I asked Marilyn how they could be married for 67 years. "I stay upstairs, and he stays downstairs," she snickered.
Then pausing, "That's a LONG time to be married to one man!!! And I guess it's too late to change now!"
They both cracked up. Then looked at each other. Their eyes were dancing.
And I think I had my answer.
My dad started to walk out of the sand trap.
"Did you remember to rake it?" Don asked.
"Oops!" My dad answered, as he was making his way out of the bunker. I laughed and looked at Don, "You're still coaching him!"
He smiled.
This golf outing was supposed to happen last year, but Don ripped his Achilles tendon a few weeks before we were supposed to play. He tore it while trying to play out of a sand trap, on the first hole, of this same course.
Sure, he rolled around in pain for a few minutes. Naturally, folks on the course panicked and made sure he was OK. Miraculously, he said he was. Unfathomably, he went on to finish the round…..17 more holes with what was eventually diagnosed as a nearly severed (completely) Achilles tendon.
I was amazed at the story: "What did you score?!?!!"
Don sat in his golf cart to think for a second. "I don't know. Something like an 87 or 88, I think."
He's fine now.
But his surgeon later admitted Don was his oldest patient for an Achilles repair. "People in their 80's just aren't doing what I am doing," he said, as he drove off to find his golf ball.
We went through our round, and Don had better eyes than my dad and me. "Your ball hit that far trap on the lip, and trickled down. You have about a 50-yard shot into the green," he would say.
On any normal day, and on any normal week, he is usually the oldest player………by a few decades. Today was different. Word spread quickly that a 92-year-old woman was playing nine holes close to us.
"Look at her!!!" he exclaimed, when we saw her from a fairway over. "She's gonna play nine holes then go home and mow her lawn!"
He laughed. And shook his head. "Good for her, good for her."
I didn't know Don growing up, other than a name of someone who was a significant person from my dad's past. I remember he came to a couple of my high school basketball games, but I didn't think twice about it.
I was a high-schooler.
I vaguely remembered what Don looked like. I didn't remember his voice. Or exactly what he did. Or how he impacted my dad. I do vaguely remember how much my dad lit up talking about him.
But I never truly understood why.
I was a high-schooler.
"Your dad was a good kid," was how Don answered my question about trying to pull up any sort of dirt on him. I was looking for anything. Big or small. I would take it. "He really didn't do anything bad," Don said. Then he broke into a big, belly laugh, "But he's not perfect, we both know that!"
We had our highlights and hacks during the round. We did have more laughs than birdies. And I couldn't get out of my head (that maybe selfishly) how lucky it was for me, that Don and Marilyn have had the good fortune to live to 87, healthy, and happy.
The non-high-schooler could now appreciate it.
"How about that?" Don exclaimed at the end of our round, adding up our damage on the scorecard. "I shot my age! Right on the nose!!!!"
87.
How cool.
And yes, how about that ….