Every week I do football, I will write a blog that hopefully provides greater insight to stories we did on the air, as well as to add some perspective to those items that might not have made it on the Tube.
Here's the Northwestern version from its weekend win vs Syracuse.
————————————————————————————–
Who's Who…
Talk about a Who's Who on the sidelines Saturday at Northwestern. Luke Donald, Mike Greenberg (honorary captain), Seth Meyers (brings back memories from my Seth Meyers Homecoming interview from 2011), and of course four of the Stanley Cup-winning Blackhawks, for "BlackHawks Day."  Evanston turned into L.A. 

'Cats on the Mend…
Kain Colter started. Venric Mark was in street clothes. And Head Athletic Trainer Tory Lindley says Mark may "be shut down for the foreseeable future."
As for Colter, he came out hot out of the gates, leading NU to a score on the opening drive, despite not practicing until Thursday. Lindley said Colter was "symptom-free" of a concussion after the team landed from Cal on Sunday morning. However, NU's policy is to hold the player out until Thursday. Why? It's required to go through a series of checks, including checking out with a neurosurgeon, completely independent of the university. Pass that test, ONLY THEN can you even try to get passed by the team doctors.
Bullough Battles
The Bulloughs are everywhere, and no strangers to the Big Ten. Saturday, Chuck Bullough, (Syracuse's Defensive Coordinator and uncle to Riley/Max Bullough of MSU) took on his second straight Big Ten opponent this season.
The return of Chuck to the Big Ten sparked this story by Chuck's brother Shane (and Riley/Max's Dad):
"Family reunions were always interesting as our dad (Hank) and Chuck (the two coaches in the family) would eventually put all the grandkids (Max and Riley included) through football-related drills, regardless of age. (Cones set up in the yard etc.)  We never seemed to think that it was strange until our neighbors in Traverse City (where we live and host reunions) informed us that most people don't have 5 year olds doing tackle drills during family reunions!  I guess we really did not think it was strange at the time!! By the way, Chuck still   goes through drills even now!"
Chuck is considered to be the best Bullough linebacker at MSU, but his nephew Max is challenging that title. Shane's response to what they have in common:
"In Common:   Toughness, Love for the game, students of game, guys you want "in the alley" with you should things go bad
Not in Common:  Max is a much better student!"
Get Some Sleep! 
It has been documented how Pat Fitzgerald has made naps part of the itinerary for late afternoon/evening games.
Now, Northwestern is taking sleep to another level.
Check out its sleep monitor for all the players and even some of the coaches: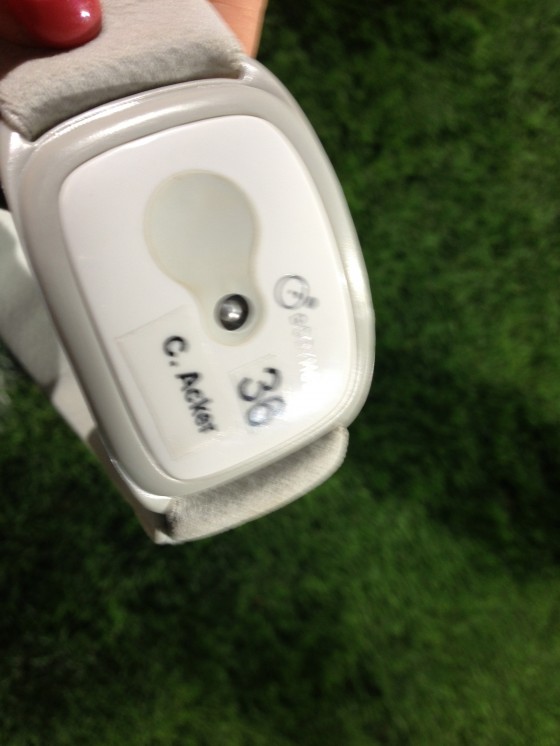 It's basically a motion-sensor, to be worn on the tricep, and it can tell when you're awake or asleep. According to Lindley, this device measures the quantity and quality of both naps and nocturnal sleep. Northwestern then can take that data, and monitor each individual's rest time. "It's what nutrition was ten years ago," Lindley said. NU has actually diagnosed sleep apnea in some of its players this season. (The sleep performance assessment began during training camp.) And just guess how many other schools are doing this? "Zero," says Lindley. NU is more than OK with that. They feel like they're getting the advantage, while others sleep on them. But not as effectively.
Zzzzzzzzzzzz……..